Modi's Offer to Defense Companies Not Enough for Lockheed
Andrew MacAskill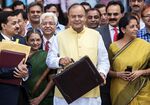 Indian Prime Minister Narendra Modi's move to increase the ownership stake for foreign defense companies to 49 percent isn't sufficient to lure high-technology investments from Lockheed Martin Corp. or Boeing Co.
Finance and Defense Minister Arun Jaitley last week said the cap on foreign direct investment in India would rise to 49 percent, up from 26 percent, with Indians maintaining control of management. While the move is positive, more is needed to attract big-ticket products, according to Phil Shaw, who heads India operations for Bethesda, Maryland-based Lockheed Martin.
"With those items where we have a lot of intellectual property and investment in a particular product, we are not necessarily going to want to send it to India and then not have control over that particular technology," Shaw said. "Over 50 percent is the key where you are able to control the business a little bit more than at 26 or 49 percent."
Modi faces the challenge of attracting more investment to build up India's local defense industry as its state-run companies fail to produce weapons the army needs in border conflicts with China and Pakistan. India surpassed China in 2010 to become the world's largest arms importer and relies on purchases from abroad for 70 percent of its weapons, according to the Stockholm International Peace Research Institute.
"I don't know if many of the larger foreign companies would be interested in coming in without control," Dhiraj Mathur, an executive director at PricewaterhouseCoopers LLP on Delhi's outskirts, said by phone. "What is of concern is that we are missing out on an opportunity to leverage our huge spending program to create an industrial base in this sector. That is what is disappointing."
Exports Fall
India's arms exports fell by about two-thirds over the past decade to $10 million last year, while China's more than quadrupled in that time to $1.8 billion, according to SIPRI data. In the last 13 years India's defense industry has drawn about $5 million in foreign investment, less than the amount for glue and gelatin production, government data show.
Most global defense companies prefer licensed manufacturing in India because they don't want to risk losing a "prized innovation," according to Rahul Madhavan, a senior manager at the Washington-based U.S.-India Business Council, which represents the top 10 American defense manufacturers. While India in theory allows 100 percent FDI for higher technology items on a case by case basis, it's an "untested option," he said.
"I don't expect that FDI inflow in the defense sector will rise substantially," Madhavan said in an e-mail. "If a foreign defense manufacturer were to be able to control 51 percent or more of a joint venture company, you will see tremendous gains and transfer of technology, manufacturing know-how, and innovative R&D development taking place in India."
'Very Positive'
Boeing isn't ready to tie up with domestic companies, Denis Swanson, vice president of Boeing Defense Space & Security in India, said in a July 15 interview. Boeing would consider a joint venture if the company could make a business case, he said, adding that the move to raise the limit to 49 percent was "very positive."
"We see India as one of the most important markets," Swanson said.
A policy announced last year to favor buying weapons from domestic manufacturers may force foreign companies to create tie-ups with Indian firms to avoid missing out on contracts, according to Gaurav Mehndiratta, who advises defense companies that invest in India.
"This means you are going to see a significant increase in joint ventures in the future," he said. "At the moment the procurement process has been largely on hold so it hasn't had much impact. Once it speeds up, then it will force foreign defense companies to change their business model."
Defense Spending
India increased defense spending by 12 percent to 2.29 trillion rupees ($38 billion) in last week's budget from a year earlier as the new government seeks to modernize the armed forces to counter China's rising power. The increase in the investment limit while keeping management control with Indians will address security concerns, Jaitley told lawmakers this week.
Standing on the deck of India's biggest warship last month, Modi called for the country to minimize its reliance on imports and become self-sufficient in weaponry.
Opinion Divided
India's largest business groups are divided on whether to support the measures. Foreign companies will invest at 49 percent because of inexpensive labor available in India, and raising the limit any further would harm domestic manufacturers, according to M.V. Kotwal, chairman of the defense committee at the Federation of Indian Chambers of Commerce and Industry.
"We have a huge need for defense equipment and technology, but we are also a country with huge capability in various manufacturing," Kotwal said by phone. "We can point to certain homegrown technologies, which by no means we can claim to meet the world's best standards, but have relevant technologies that are quite cost effective."
Ajay Sharma, a senior director at the Associated Chambers of Commerce and Industry of India, disagrees. India should raise the cap to 100 percent to increase employment and attract technology that can help the country end its reliance on costly foreign imports.
"We would like to see some more progress being made on this front in the future," Sharma said, adding that he welcomed the initial step. "We want to see a manufacturing spurt within the country, and raising the cap further will help."
Before it's here, it's on the Bloomberg Terminal.
LEARN MORE