Jeter Goes 2-for-2 in Last All-Star Game as American League Wins
Rob Gloster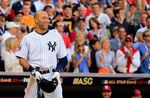 Derek Jeter of the New York Yankees got two hits in his final All-Star Game and scored the first run as the American League defeated the National League 5-3.
Mike Trout of the Los Angeles Angels drove in two runs for the AL with a double and a triple last night to win selection as the game's Most Valuable Player, and Miguel Cabrera of the Detroit Tigers added a two-run homer for the AL.
Jeter, playing in his 14th All-Star Game, doubled leading off the first inning and scored on Trout's triple. Cabrera followed with his home run.
Jeter, 40, who singled in the third, left the game in the top of the fourth inning to a long standing ovation from the crowd at Target Field in Minneapolis. He has 13 hits in 27 at-bats for a .481 All-Star batting average.
"It's an awesome feeling," Jeter, who has announced this will be his final Major League Baseball season, said of the ovation. "I've been playing this game for a long time, and to be appreciated by fans from all the teams feels really good."
Jonathan Lucroy of the Milwaukee Brewers had a pair of run-scoring doubles for the NL.
The victory means the team that wins the AL pennant will enjoy home-field advantage in the World Series. The last five teams that have held the home field have gone on to win the championship.
Before it's here, it's on the Bloomberg Terminal.
LEARN MORE