De Blasio's Vacation Plans May Clash With LIRR Strike
Henry Goldman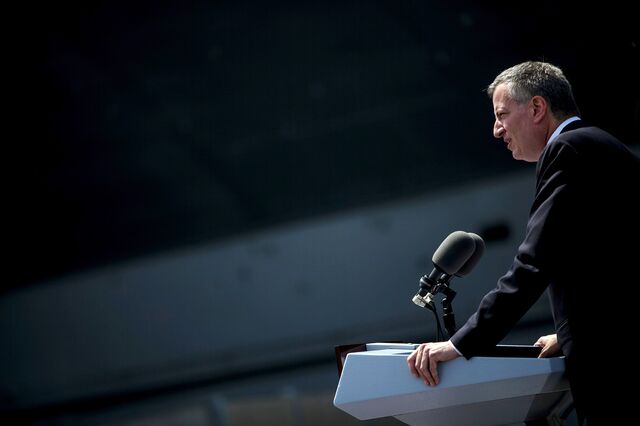 New York Mayor Bill de Blasio said he will travel with his family this week on a nine-day trip to his ancestral roots in Italy even as a potential Long Island Rail Road strike threatens to create commuter chaos.
The mayor's decision has brought him attention from the city's tabloids and criticism from former Mayor Rudolph Giuliani, who never took as much time off from City Hall. Like de Blasio, Giuliani had two school-age children when he served from 1994 through 2001, a period that included the Sept. 11 terrorist attack on the World Trade Center.
"It was my view that the mayor has to be omnipresent," Giuliani, a Republican, said yesterday on WABC radio. "When an emergency takes place, you should be here."
De Blasio, a 53-year-old Democrat, assumed office Jan. 1 after campaigning as the first mayor in decades to have two children who attended public schools. Now he's being described in the Daily News and New York Post as the first in decades to leave town long enough to potentially trigger a charter provision empowering Public Advocate Letitia James to become acting chief executive when the mayor is absent for nine days.
De Blasio's predecessor, Michael Bloomberg, used his private jet to travel the world for business and pleasure during 12 years in office, yet he always returned within a week. He encountered criticism when he was in Bermuda as a crippling blizzard struck in 2010. The former mayor is the founder and majority owner of Bloomberg News parent Bloomberg LP.
Dinkins in Japan
Former Mayor David Dinkins was on a nine-day trip to Japan in February 1993 when a bomb was detonated in the parking garage in the first World Trade Center attack.
"Mayors face risks of incurring political damage whenever they leave town for extended periods," said consultant George Arzt, a press secretary to former Mayor Edward Koch, who served from 1978 through 1989.
"In his first term, Ed went to London and Paris; two cops were killed while he was away," Arzt said. "Ed was famous for saying, 'If a sparrow dies somewhere in the city, it's my fault.' The fact is, we're talking about optics or appearances here, not government."
De Blasio will be traveling with his wife, Chirlane McCray, 59, and their children, Dante, 16, and Chiara, 19. The trip is important to his family at this moment in their lives, he has said.
'Pretty Sacred'
"One kid's still in high school, one kid's in college -- it's very important to spend that time together," de Blasio said at a July 14 news briefing. "That's the only thing that to me is pretty sacred."
The itinerary mixes business with pleasure. The family will depart July 18 for three days in Rome for sightseeing and visits with municipal officials. Then it's off for a two-day holiday to the island of Capri followed by a stop in Naples and then visits to the southern Italy towns of Sant'Agata de' Goti, birthplace of his maternal grandfather, and Grassano, from where his maternal grandmother emigrated to the U.S.
De Blasio and his family will then visit Venice for three days, before returning to New York July 28. If all goes without delays, he should be back within nine days.
"For many, many New Yorkers of Italian heritage, they share with me the understanding of what it means to go to the homeland," the mayor said. "Almost every New Yorker can relate to the notion of going to where your ancestry is from and what that means."
Daily Contact
With a strike set for 12:01 a.m. July 20 on the busiest U.S. commuter railroad, which serves 300,000 travelers each weekday, de Blasio has said he'll remain in daily contact with his management team, which includes Deputy Mayor Anthony Shorris, a veteran of state and city government, and Police Commissioner Bill Bratton.
The Metropolitan Transportation Authority, the state agency that runs the railroad, is responsible for collective bargaining and for planning transportation alternatives in the event of a walk-out, not the city.
"The mayor's prepared to cut short his trip or leave early if a crisis really develops," said Phil Walzak, mayoral press secretary. "We have several technological and communications options that didn't exist back in 1993, when Mr. Giuliani was elected mayor."
Before it's here, it's on the Bloomberg Terminal.
LEARN MORE