Cambodia's Political Turmoil Deepens With Violent Clashes and Arrests of Opposition Leaders
Christina Larson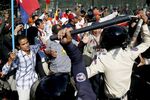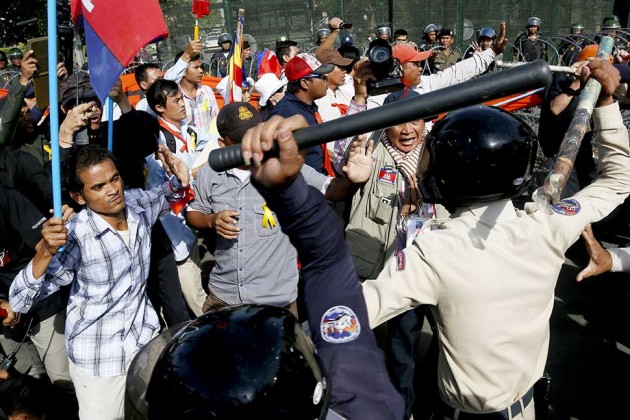 Curls of razor wire are blocking access to Phnom Penh's Freedom Park, which previously was a staging ground for public demonstrations in Cambodia's capital. It's a dire symbol of a country in protracted political crisis since the disputed national election on July 28, 2013.
Prime Minister Hun Sen's Cambodian People's Party has held power for nearly 30 years. Over the past year, a series of large protests—over issues as diverse as demanding an election recount to raising the minimum wage for garment workers—has drawn support from broad sectors of society and made the national government nervous about dissent. In January, authorities ordered Freedom Park cordoned off, and security guards have since patrolled its perimeter.
On Tuesday, Mu Sochua, a prominent government critic and member of the opposition Cambodia National Rescue Party, led hundreds of marchers to Freedom Park, demanding that the square be reopened to the public. The demonstration ended in violence.
As protestors waving Cambodian flags and chanting "Hooray for democracy" began to unfurl a large orange banner, uniformed security guards fired what appear to be pellet guns into the crowd, as a video taken by the Cambodian human rights group Licadho shows. In the ensuing confusion and violence, at least 16 people were injured. Some protestors struck security personnel with flagpoles, according to VOA News.
Six prominent opposition leaders, including Sochua, were taken into police custody and charged with instigation and incitement to violence. Confirming the charges, Sochua wrote on her Facebook page on Wednesday: "I am in court and have been charged for inciting violence and criminal acts." She challenged the independence of the judicial system. "This is all unconstitutional."
Tuesday's clashes mark a troubling escalation in violence. Am Sam Ath, a human-rights campaigner for Licadho, says that pent-up animosity on both sides fuels aggression. "This is the result of anger being built up so far," he told VOA News. "Now, when it is ripe, they simply fight each other. This is the result of cultivating the culture of violence.  On behalf of our civil society group, we urge both sides to renounce violence because nobody will benefit from it."
Before it's here, it's on the Bloomberg Terminal.
LEARN MORE