A Navy Nurse Is Refusing to Force-Feed a Guantanamo Inmate
By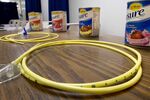 For the first time, a Navy medical officer has refused to force-feed hunger-striking detainees at Guantanamo Bay.
A Defense Department spokesperson confirmed that a nurse had refused to participate in force-feeding and referred further inquiries to public affairs staff at Guantanamo, who did not immediately respond to a Wednesday afternoon inquiry. "There was a recent instance of a medical provider not willing to carry out the enteral feeding of a detainee," Navy Captain and spokesperson Tom Gresback told the Miami Herald's Carol Rosenberg, who first reported the news.
Detainee Abu Wael Dhiab reported the nurse's act of defiance to Cori Crider, an attorney for U.K.-based legal group Reprieve. Dhiab, whose transfer from Guantanamo was authorized but has been stalled because of violence in his home country of Syria, is currently suing the U.S. government to end the alleged force-feeding. He is one of over 100 detainees to have engaged in hunger strikes within the past eighteen months, protesting their ongoing detention and the conditions at the prison camp. (On Wednesday morning, the Guardian's Spencer Ackerman reported that detainees at the Parwan detention facility in Afghanistan have mounted hunger strikes as well.) In an affidavit submitted through his attorney, Dhiab said he had been choked, dragged, and had had liquid pumped rapidly into his body. "They hurt me really, really badly," he said. Dhiab has never been charged with a crime.
According to the Associated Press article, "the military straps a prisoner down, inserts a flexible tube into a nostril and sends liquid nutrients, typically Ensure or a similar product, directly to the stomach." Marine General John F. Kelly, who oversees the Guantanamo facility, last month said, "We don't force-feed anyone" but also: "A lot of people say, 'Why do you restrain them in the chair?' Only because I don't trust them with the health and well-being of my troops." Dhiab's pending suit has led a district court judge, Gladys Kessler, to order that 34 videos of Dhiab's feedings be released to attorneys.
The nurse who refused to force-feed Dhiab has not been identified, but appears to be a Navy lieutenant, according to Rosenberg. Retired army medical corps officer Stephen Xenakis, a psychiatrist and force-feeding opponent who has repeatedly visited Guantanamo, told the Miami Herald: "They have said to us directly that if a provider objects for ethical reasons or other reasons they would not be ordered to participate—and they would not suffer any adverse consequences." The Navy's Gresback was quoted by the newspaper as saying that the nurse has been given "alternative duties" and that "The matter is in the hands of the individual's leadership."
"This nurse concluded that the military's Guantanamo force-feeding policies are not humane," Reprieve's Crider said in an e-mailed statement. "Yet the military still insists that they are—so why won't the Obama administration release the ten-plus hours of Mr. Dhiab being force-fed that I have seen? I think the American people would be very concerned to see what is happening at the prison."
Before it's here, it's on the Bloomberg Terminal.
LEARN MORE