With Severe Sentences for Journalists, Myanmar Continues to Roll Back Media Freedoms
Christina Larson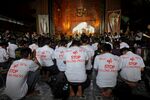 Last Thursday, a Myanmar court sentenced five journalists to 10 years in prison for violating the country's State Secrets Act. Following publication of their newspaper report on a Burmese Army facility allegedly equipped to manufacture chemical weapons, the journalists have been held in police custody since January.
National League for Democracy leader Aung San Suu Kyi called the sentences "very excessive" in a speech on Saturday. "While there are claims of democratic reform [in Myanmar], this is questionable when the rights of journalists are being controlled," she said, according to the Irrawaddy magazine. "In a democratic system, security should be in balance with freedom."
Shortly after Myanmar's political reforms began in 2011, the country ended its stringent censorship system, which had required all newspaper articles to be reviewed by official monitors prior to publication. While journalists cheered these initial reforms, the government's spirit of openness has since shown limits.
The fate of the five journalists detained after publishing the report about an army facility had become a local cause célèbre—with their case widely seen as a litmus test for the government's ability to tolerate criticism and public discussion. In January, several hundred journalists staged protests in Yangon calling for their release.
Thursday's verdict seems a clear step backward for Burmese press freedoms. "Despite the changed political conditions in Myanmar, still many journalists and writers are facing legal actions for doing nothing other than exercising their right to free expression," the nonprofit Asian Human Rights Commission (AHRC) said in a statement on Monday.
AHRC noted that the court heard 29 witnesses for the prosecution and only six for the defense, and that "in its characteristics the court process was not significantly different from the period of direct military dictatorship."
Before it's here, it's on the Bloomberg Terminal.
LEARN MORE