What DOJ Won't Tell Critics: It Might Be Too Late to Put Bankers in Handcuffs
By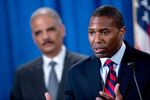 Associate Attorney General Tony West led the negotiations that led to Monday's $7 billion settlement of the Justice Department's probe into mortgage practices at Citigroup. Federal officials such as West have sought to frame the agreement as a historic success, part of the process by which the banks accept responsibility for the wrongdoing that contributed to the 2008 economic meltdown.
Critics of the government's handling of financial-crisis cases remain unsatisfied. "[T]he settlement once again places the burden of penalties on current shareholders, employees and clients—while extracting nothing from those who were involved," reads a piece in the Economist under the headline: "Another week, another settlement."
In his an appearance on PBS NewsHour, West said little during his TV interview that's likely to calm the critics.
"Did the knowledge go all the way to the top?" Judy Woodruff asked.
"A number of bankers knew about this," West replied. "How far up that went—certainly enough people in the company knew and enough bankers knew that we felt that we could demand a very high, and in fact a historically high, penalty from Citibank."
Hmm … So why weren't any charges brought against any of those bankers?
"This is a civil resolution, it is not a criminal resolution," West said. "We have not written off any ability to pursue criminal charges, if the evidence should merit that." He went on: "We know, of course, that no one resolution—this resolution won't solve all the problems created by the financial crisis. But it is an important step to rectify some of the harm."
"Regarding potential criminal charges, is that something the Justice Department is actively looking at?" Woodruff asked.
"Yes, and I don't want to speak in connection with any particular financial institution, but we are looking at all aspects," West replied. "The civil resolution in only one tool. Wherever the evidence leads, wherever the facts lead, we will not hesitate to bring those charges if that is criminal."
Criminal cases against individuals over complex mortgage fraud are difficult to assemble and require proof of criminal intent, which can be challenging for prosecutors. What West did not mention is that the statute of limitations for criminal charges in many of these cases either has already run out or will soon. Those who won't be satisfied until they see bankers in handcuffs are likely to be disappointed.
Before it's here, it's on the Bloomberg Terminal.
LEARN MORE