The Pentagon's Troubled F-35 Won't Fly at Britain's Big Air Show
By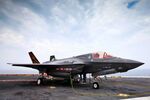 In the Pentagon's long history of $800 toilet seats and procurement budgets expanding exponentially, few troubled programs have been as bulletproof as the F-35 Lightning II. The advanced fighter is Uncle Sam's most expensive military program in history, with a price tag of almost $400 billion for about 2,400 jets. Costs have surged more than 70 percent in the 13 years since the government formally embarked on the jet project, and yet the program is widely considered safe on Capitol Hill.
The F-35 was designed to be the primary replacement for the various combat models the Air Force, Navy, and Marine Corps now fly, a versatile, multipurpose platform tweaked for each military branch. The Pentagon plans to use the F-35 for about 55 years, a timeline that starts next year, when the Marines expect to have the jet ready for combat.
The main shortcoming of the F-35—beyond its budget-busting costs—concerns its many engineering and operational problems. The Pentagon grounded the plane earlier this month following an engine fire in Florida, and Department of Defense officials are still working to resolve the issue with Lockheed Martin, the primary contractor on the program, and Pratt & Whitney, which makes the engine. Excessive rubbing of blades against the engine cowling caused high heat and an eventual fire in the June 23 incident, which resulted in no injuries.
Military officials cleared the aircraft to resume limited flint tests on Tuesday but said the restrictions would prevent an F-35 appearance at the Farnborough International Airshow in the U.K., a major public-relations blow for a program that has suffered many. As the Wall Street Journal put it, Farnborough is an important international sales call for the jet:
"The U.S. wants to show off its most expensive weapons program overseas to build confidence among international buyers needed to be brought on board to reduce per plane costs."
The plane has been grounded before, including an incident last month after an oil leak was discovered during flight.
Earlier this month, Lockheed and its major partners on the project—Northrop Grumman and BAE Systems—pledged to invest $170 million to find ways to lower costs of the program. The "Blueprint for Affordability" seeks to cut the cost of each F-35 to less than $80 million.
In a Pentagon budget bill passed last month, the House boosted spending to acquire 38 F-35s in the 2015 fiscal year—four more than the Pentagon had requested. The program has work in 45 states, a strategy that enlarges its appeal for Congress. "The political armor of the F-35 is as thick as the heads of the people who designed the airplane and its acquisition plan," Winslow Wheeler, a former congressional staffer who writes about the program, recently told Foreign Policy.
Before it's here, it's on the Bloomberg Terminal.
LEARN MORE