Organic Veggies Are Better for You: New Research Sides With Foodies
By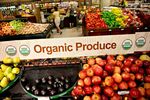 The latest study to examine the merits of organic food has come down decidedly in its favor, finding that organic versions have more antioxidants and less pesticide residue.
The study (PDF), led by researchers at Newcastle University in the U.K., concluded that switching to organic food provides as many additional antioxidants as eating between one and two extra portions of fruits and vegetables per day. The authors claim that the research is the most comprehensive of its kind, analyzing 323 peer-reviewed studies that compared organic to conventional crops. Advocates of organic food quickly latched onto the study as conclusive proof that organics are superior.
"This important research should help greatly to dispel consumer confusion about the benefits of organic," said Jessica Shade, director of science programs at the Organic Center, a nonprofit group that promotes research on organic agriculture, in a press release.
Before you pack your grocery bags into the car and head to Whole Foods, it's worth noting that several recent studies have reached dramatically different conclusions.
A 2009 study (PDF) for the U.K.'s Food Standards Agency found that no significant differences between organic and conventional food. In 2012, a Stanford University study reached a similar conclusion, noting that its researchers could not find specific fruits or vegetables for which organic was a consistently healthy choice. They did note, however, that organic food has less pesticide residue and may reduce exposure to antibiotic-resistant bacteria. The authors of the Stanford study could not be reached for comment.
The conflicting studies have done little to deter sales of organic products—mostly food—among American consumers, which grew 12 percent last year, to $35 billion, according to the Organic Trade Association.
Chuck Benbrook, a research professor at Washington State University who participated in the Newcastle study, said the research relied on a larger sample size than the previous studies and put greater weight on studies with more robust data. At a time when many Americans eat too many calories and not enough nutrients, he said he hopes the study will encourage more research on "growing nutritionally rich food" rather than just increasing yields.
The study, which will be published in the British Journal of Nutrition on July 15, received funding from the European Union and the Sheepdrove Trust, which promotes organic research. Noting that numerous studies have linked antioxidants to reduced risk of disease, the researchers found that concentrations of antioxidants were between 18 and 69 percent higher in organically-grown crops. The analysis also concluded that organic crops had on average 48 percent lower concentrations of the toxic metal cadmium. Conventionally grown crops were four times more likely to have pesticide residue on them, compared to their organic counterparts.
"We have shown without doubt there are composition differences between organic and conventional crops," said Professor Carlo Leifert of Newcastle University in a statement. "Now there is an urgent need to carry out well-controlled human dietary intervention and cohort studies specifically designed to identify and quantify the health impacts of switching to organic food."
Before it's here, it's on the Bloomberg Terminal.
LEARN MORE