Mechel Rebound Fleeting to BCS as Coal Prices Fall
Halia Pavliva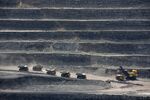 OAO Mechel, the Russian mining company seeking to avert bankruptcy, surged in U.S. trading as OAO VTB Group extended the maturity on part of its debt. Raiffeisenbank AG and BCS Financial Group said the rebound will be short-lived without an increase in coal prices.
Russia's biggest supplier of coking coal rallied 10 percent in New York yesterday after VTB extended the maturity on 15.8 billion rubles ($459 million) of loans, pushing back payments to between April 2015 and 2018. It's part of a total 33.8 billion rubles of Mechel debt the state-controlled lender has agreed to restructure since April.
Yesterday's advance reduced Mechel's decline this year to 23 percent, a rout triggered by the company's struggle to service $9 billion of debt after tumbling prices for coking coal, which is used in steelmaking, led to a record loss in 2013.
"It's just a respite," Iryna Trygub-Kainz, an analyst at Raiffeisenbank who reiterated her sell recommendation, said of yesterday's gain. "The risks associated with Mechel's elevated debt and low coal prices remain very high. The rebound in Mechel's stock price can't be sustained unless coal prices rebound."
Ten of 14 analysts covering Mechel recommend clients sell the stock, according to data compiled by Bloomberg. Among that group, Trygub-Kainz's recommendations produced the best relative returns of all the securities she covered over the last year, the data show. Three analysts have a hold ratings, while one advises clients to buy the shares.
Coal Prices
The Moscow-based mining company "has all the necessary basis for successful development in the medium term," Chief Financial Officer Andrey Slivchenko said in a statement. "Today, Mechel Group's top priority is stabilizing its financial situation. This refinancing agreement with VTB Bank is yet another step in this direction."
Spot prices for coking coal used in steelmaking have plunged 16 percent this year after dropping that much in all of 2013.
"The market reaction is inadequate and the rally can't be sustained because prices of coal remain extremely low," Oleg Petropavlovskiy, senior analyst at BCS Financial Group in Moscow, said by phone on July 14. "Coal prices are the key factor when deciding on Mechel."
Coal sales accounted for more than half of Mechel's earnings before interest, taxes, depreciation and amortization last year, according to Petropavlovskiy.
Sales of mining products accounted for 66 percent of Mechel's 2013 Ebitda, down from 78 percent in 2012, data compiled by Bloomberg show. Coal makes up most of Mechel's mining products, Petropavlovskiy said.
Premium Widens
The stock rallied the most in a month in New York yesterday, increasing to $1.96. The gain pushed the premium to the Moscow-listed shares to 58 percent. Mechel rose 8.1 percent to 42.7 rubles, or $1.24, in Russia yesterday.
Mechel was the best performer on the Bloomberg Russia-US Equity index, which declined 1.1 percent to 90.53 yesterday. The Market Vectors Russia ETF, the biggest U.S. exchange-traded fund that holds Russian shares, dropped 0.9 percent to $26.34 yesterday, the lowest level since June 30.
RTS stock-index futures decreased 0.2 percent to 132,250 in U.S. hours. The RTS Volatility Index fell 1.3 percent to 28.56. United Co. Rusal, a Moscow-based aluminum producer, rose 1.6 percent to HK$3.77 in Hong Kong trading as of 11:12 a.m. local time.
Before it's here, it's on the Bloomberg Terminal.
LEARN MORE