Libya Considers International Support Appeal After Fight
Tarek El-Tablawy and Ayman Kekly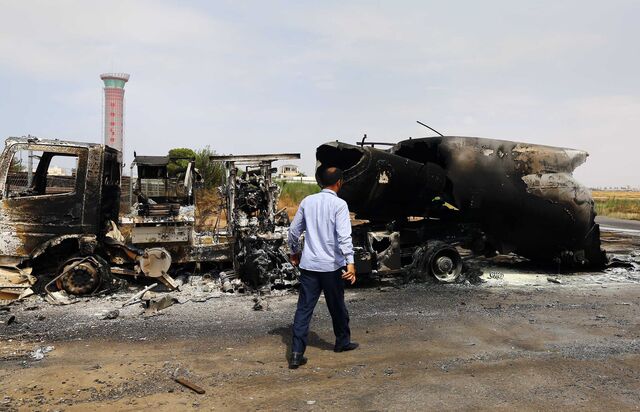 Residents of Libya's capital burned tires and blockaded the main highway after two days of fighting between rival militias left at least eight people dead and prompted the government to consider calling for support from international forces.
A militia guarding Tripoli's international airport came under attack overnight by rival Islamist groups, with at least one rocket striking and damaging the main control tower, Murad al-Tabeeb, a flight dispatcher with Libya's state-run airline, said by phone today from Tripoli. The United Nations mission in Libya yesterday said it was temporarily withdrawing staff from the north African country because security was deteriorating.
The unrest, some of the worst Tripoli has seen in several months, highlighted the chaos that has come to define Libya's transition effort more than three years after the ouster and killing of leader Muammar Qaddafi. Rivalries between militias, which have often doubled as national security forces, have undercut the already-weak central government's ability to exert influence and stabilize the nation that sits atop Africa's largest proven crude oil reserves.
With little in the way of centralized control, a trove of weapons looted from armories has provided the necessary firepower for semi-autonomy bids in the east and sparked worries among regional neighbors such as Egypt of a spillover of the unrest.
Security Personnel
Explosions were heard today near the airport, local residents said, while the cause was not clear.
The fighting last night left two Tripoli airport security personnel dead and another three wounded, the independent al-Dawliya TV station reported, citing an unidentified official with the al-Qaqaa Brigade that's been guarding the airport. Earlier fighting had claimed at least six other lives, as al-Qaqaa, which is loyal to a rogue general waging a campaign against Islamists in the oil-rich eastern part of the country, came under attack by pro-Islamist militias mainly from the city of Misrata.
The government said on its website that 90 percent of the airplanes parked in the airport had been damaged by the fighting. The statement, which called for a halt in the fighting and all parties to withdraw from the facility, said that a number of civilian airplanes and ones used for "national security" purposes had been completely destroyed. It said officials had discussed seeking help from international forces.
The fighting in Tripoli was echoed by unrest elsewhere in the country, with clashes between forces loyal to General Khalifa Haftar and Islamists leaving at least three dead, the state-run LANA news agency reported.
Haftar has been waging a fight against what he describes as "terrorists" bent on destabilizing the country, taking on Islamists who rose to power in parliament with Qaddafi's ouster.
Before it's here, it's on the Bloomberg Terminal.
LEARN MORE