Ikea Wants to Bring Swedish Meatballs to the Las Vegas Desert
By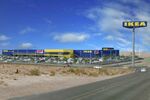 DIY furniture king Ikea has submitted plans to bring its model rooms and cheap kitchenware to Las Vegas, where the chain estimates it already has 101,000 customers. It will be the first Ikea in Nevada.
The retailer has been looking at the market for about a decade. A developer told the Las Vegas Sun in 2010 that Ikea was concerned that there were too few college graduates in the area, and the company "found they didn't do well in that kind of market." But Ikea spokesman Joseph Roth said in an interview that this was not the hold up; instead, the delay was caused by a long search to secure a large piece of land (Ikea purchases land, it does not lease) off the highway. He added that Ikea looks for locations with 2 million people within a 40 to 60 mile radius, and Clark County's population only recently hit the mark.
The proposed 351,000-sq. ft. location–about the average size of a new Ikea–will have 1,300 parking spaces set on 26 acres along the northern side of Interstate-215 at Durango Drive, near the intersection with Sunset Road. It could open as early as summer 2016. Here's what the site looks like now.

The chain's U.S. business, which now includes 38 stores in 21 states, grew last year: comparable store sales increased by 6.7 percent and e-commerce sales by 65 percent. This year, Ikea will open stores in Miami-Dade County and Merriam, Kansas, and it plans to open a St. Louis store in fall of 2015. Ikea doesn't have plans right now to build a store in every state, says Roth, but there are fewer and fewer states where you can't buy an Ektorp sofa.

Before it's here, it's on the Bloomberg Terminal.
LEARN MORE