Embraer Leads Bombardier With $1.87 Billion Azul Order
Christiana Sciaudone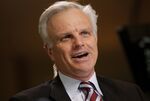 Embraer SA won a $1.87 billion sale of planes to David Neeleman's Azul Linhas Aereas Brasileiras SA, as the biggest maker of regional jets widens its lead over Bombardier Inc.
Azul plans to buy 30 of the E195-E2 model and become the first operator of the plane, the biggest version of Embraer's updated regional-jet family. Embraer said today that it expects to convert Azul's letter of intent into a firm order by the fourth quarter.
The deal builds on a $2.4 billion order announced yesterday at the Farnborough Air Show as Embraer seeks to cement its dominance in the market for planes seating about 130 people. The biggest upgraded E-Jets also let Embraer nose into the smaller end of the narrow-body airliner segment, challenging Boeing Co. and Airbus Group NV as well as Bombardier's new CSeries.
"Our actions are based on maintaining our leadership in the market of jets with 100 to 130 seats," said Paulo Cesar Silva, chief executive officer of Embraer Commercial Aviation, in a phone interview from the Farnborough International Airshow in England. "Our planning and investment are made with this objective to maintain this leadership."
Embraer's 272 regional-jet orders last year dwarfed Bombardier's 27, according to data compiled by Bloomberg Industries. Montreal-based Bombardier also has struggled for orders for the CSeries, a step up in size from traditional commuter aircraft, while Embraer has announced sales at this air show and last year's forum in Paris.
Route Fit
Embraer estimates the industry will deliver 6,250 planes in the 70- to 130-seat range over the next 20 years, according to a regulatory filing. The Azul planes will have 132 seats, said Neeleman, founder of Azul and JetBlue Airways Corp.
"These are good for the routes we fly," Neeleman said by phone from Farnborough. "It has more seats on it, and it has the new Pratt & Whitney geared turbofan engine and 15 percent better fuel economy."
Neeleman said Azul also considered the smallest jets made by Boeing and Airbus, the world's biggest planemakers. Azul announced in April that it's leasing six wide-body A330-200s to fly between Campinas, Brazil, and the U.S.
Azul has the option to purchase 20 more of the E195-E2 planes, bringing the total value to $3.1 billion, the Barueri, Brazil-based carrier said today in an e-mailed statement.
"We'll probably increase the firm order," Neeleman said.
Replacement Models
Azul will use the new E-Jets to replace some older models and to add to its fleet in anticipation of a government plan to encourage more regional air service through subsidies, which Neeleman said he expects will go into effect by 2015. Azul is also planning routes through new slots it will receive at Sao Paulo's Congonhas airport, Neeleman said.
Embraer confirmed the sale of five of its current generation E-Jets today, which should help to bridge the production gap ahead of the release of the E190-E2 in 2018. The E195-E2 is due in 2019.
Yesterday, Embraer announced a sale of 50 E175-E2s to Trans States Holdings Inc., which controls Trans States, Compass and GoJet airlines.
Positive News
"This was very positive news, because it shows the new E-Jets are being well accepted," said Mario Bernardes Junior, a senior Banco do Brasil SA analyst, by telephone from Sao Paulo.
Brazil's regional aviation incentive program should result in sales of 50 to 80 jets in the next five years, Silva said. "The combination of incentives for regional routes and infrastructure that will be improved at local airports will bring new demand in the Brazilian market," Silva said. Embraer expects to close more firm orders this year, which could include U.S. airlines as well as companies in Asia and Latin America, Silva said.
Before it's here, it's on the Bloomberg Terminal.
LEARN MORE