Are the BRICS Nations Too Splintered to Be a Bloc?
By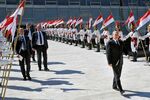 As leaders of the BRICS countries gather for a post-World Cup summit, Russian President Vladimir Putin is rallying them to challenge U.S. and European dominance in international policymaking. "It is time to raise the BRICS' role to a new level and to make our group an unalienable part of the global order," Putin said in an interview with the ITAR-TASS news agency, as leaders of Brazil, Russia, India, China, and South Africa met in Brazil.
The summit agenda includes the creation of a development bank and a $100 billion currency reserve fund, intended to serve as counterweights to the World Bank and the International Monetary Fund. Putin also wants the BRICS to coordinate their foreign policies to avoid what he described as "harassment" of countries that don't agree with the U.S. and its allies.
Trouble is, the BRICS look too splintered to function as a bloc. When Goldman Sachs economist Jim O'Neill coined the term in 2001, the BRIC countries—joined by South Africa in 2011—were growing robustly and looked poised to increase their global clout. Since then their paths have diverged sharply. China's share of the world economy continues to grow, from 11 percent in 2008 to an estimated 18 percent by 2018. India's has risen more modestly, from 4.8 percent to a forecast 6.3 percent by 2018. Brazil and Russia, though, each still account for less than 3 percent of global output, the same as a decade ago. South Africa also remains unchanged, at less than 1 percent.
"The BRIC concept is no longer relevant," economists at the Zurich-based Coutts private bank wrote in a report earlier this year. "There is now such a disparity in size and importance that it makes little sense to look at them as a group."
The BRICS do have a legitimate gripe about U.S. and European dominance of international institutions, says Charles Robertson, an emerging-markets economist at Renaissance Capital in London. Taken together, the BRICS' annual output totals about $16 trillion, more than the euro zone. Their combined population equals 43 percent of the world total. Yet neither the World Bank nor the IMF has ever had a leader from an emerging economy.
So far, however, the BRICS have had trouble finding common ground. They couldn't agree on a candidate to head the IMF or the World Bank when those institutions chose new leaders in 2011 and 2012. And they're squabbling over trade, with India and South Africa signaling they may back out of a trade facilitation agreement endorsed by all five countries just a few months ago.
Even the planned BRICS bank has been contentious, with talks still under way as the summit opened, about how shareholdings in the bank would be divided among member countries.
An underlying problem is that the BRICS economies don't have much in common. Their economic-management policies run the gamut, from state-controlled to largely free-market. Per capita incomes range from just more than $5,000 annually in India to more than $24,000 in Russia. China has $4 trillion in currency reserves, the lion's share of the BRICS total.
Despite the BRICS' considerable resources, their bank and currency fund will lack financial heft. The five countries are pledging $50 billion to the new bank, which would allow it to lend an estimated $3.4 billion annually a decade from now. That's a pittance compared with the World Bank, which lends more than $60 billion each year. Details on functioning of the $100 billion currency reserve fund, which countries could tap in case of trade deficits, are still being hammered out.
"There are many unanswered questions," Domenico Lombardi of the Canada-based Centre for International Governance Innovation, tells Bloomberg News. "The measures are more symbolic, designed to show they have alternative instruments to the IMF and World Bank."
Before it's here, it's on the Bloomberg Terminal.
LEARN MORE