business
Apple Partners With the Company Formerly Known as Big Brother
By
Throughout its 38 year history, Apple has been the king of incongruous partnerships. In 1997 there was the deal with arch-rival Microsoft, in which Bill Gates appeared on a huge overhead screen at Macworld and promised to develop applications like Microsoft Office for Apple's limping line of personal computers.
In 2005, Apple co-founder Steve Jobs struck a deal with stodgy Motorola to put iTunes in the Rockr flip phone. It was an arrangement that he quickly came to regret, but which partly inspired Apple's go-it-alone approach with the iPhone.
Now Apple is teaming up with an old nemesis, IBM, to develop business applications for the iPhone and iPad and to tailor IBM's cloud services for Apple's mobile operating system, iOS. The deal "teams the market-leading strengths of each company to transform enterprise mobility through a new class of business apps," according to the near-impenetrable press release.
It also aligns two companies whose rivalry inspired the most famous television ad in history.
But that was then. Apple CEO Tim Cook and IBM CEO Ginni Rometty have been making the media rounds today, describe the pairing as perfect combination with little competitive overlap, since IBM no longer sells personal computers and has largely fashioned itself as a consulting and cloud computing firm.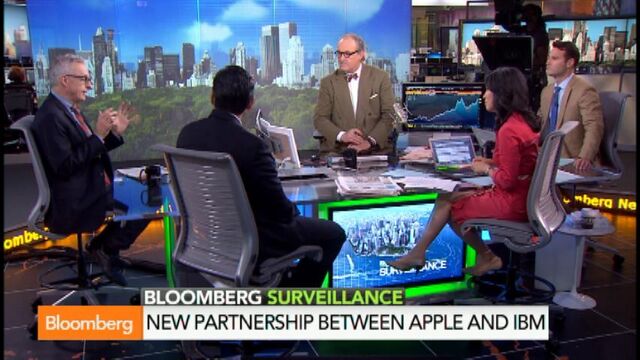 The deal is most obviously a boost for Apple, which has traditionally focused on consumer markets and now gets a big ally in the enterprise. IBM says it will sell iPhone and iPads to its millions of business customers around the world in industries like healthcare, banking and travel. Apple likes to boast that its devices are already in 98 percent of Fortune 500 companies, but that math probably includes companies whose employees have secreted in their iPhones without the knowledge (or with the begrudging tolerance) of corporate IT.
For IBM, the deal gives it another way to flex its muscles in cloud computing, an area where it's been badly outmaneuvered by Amazon. It also puts IBM services back in front of corporate customers who are looking for tools specifically developed for their industries. IBM says it will develop 100 business applications for Apple's iOS.
In interviews Rometty presented several possible apps, theorizing for example that the company could develop specific iPad software for airline pilots. We won't really know what IBM and Apple have in store until later this year, when the first IBM business apps for the iPhone and iPad are expected.
Until then, it remains one of the more unusual pairings in tech—like Lawrence Welk and The Beatles getting together to record an album.
Before it's here, it's on the Bloomberg Terminal.
LEARN MORE