Your Russell Stover Chocolates Will Now Be Made by Lindt
By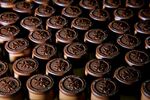 Kansas just got a little more cosmopolitan. Swiss chocolate company Chocoladefabriken Lindt & Sprüngli announced plans to buy Russell Stover Candies, the third-largest candy company in the U.S., and one that until now has been privately owned. Deal terms weren't disclosed, but the Wall Street Journal estimates the value at $1.2 billion.
Lindt was founded in 1845 by a Zurich chocolatier and quickly became known for its silky, high-end confections—a far cry from the 5¢ Hershey bar that charmed America in the late 19th century. But by the 1980s, rising cocoa and sugar prices, coupled with an increase in cheaply made foreign candies, led Lindt to seek a more egalitarian customer base. With $3.2 billion in annual sales, Lindt now has a global reach and its Lindor bars and individually wrapped truffles can be found in most U.S. grocery stores, from supermarkets to corner delis.
Still, the Swiss chocolate maker has never had much of a presence around the holidays. While smaller than Lindt, Russell Stover, in Kansas City, Mo., with factories on the Kansas side of the border, is the top-selling boxed chocolate maker in the country and dominates such gift-giving holidays as Valentine's Day and Christmas.
The Russell Stover acquisition is just the latest step in Lindt's plan to expand its U.S. business. According to Candy Industry Magazine, the company is adding to its existing chocolate lines and has been looking for an additional 1 million square feet of production and storage space in the U.S.. Before this deal, Lindt had just two manufacturing plants in the U.S., in New Hampshire and in California. The latter makes Ghirardelli brand chocolates, which Lindt bought in 1998. It also owns Whitman's boxed chocolates.
Russell Stover gives Lindt another four factories, 3,000 more employees, and an estimated $600 million in annual sales. With that, Lindt will become the third-biggest candy company in North America, behind only Hershey and Mars.
Before it's here, it's on the Bloomberg Terminal.
LEARN MORE