Traders Cheer Citigroup's $7 Billion Crisis Settlement and Earnings
By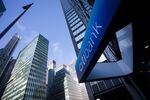 Citigroup's $7 billion settlement with the government to end an investigation into its crisis-era mortgage activity nearly wiped out its quarterly profit, the bank announced today. Wall Street was thrilled: Shares rose 4 percent in pre-market trading.
Second-quarter net income was $181 million, down 96 percent from $4.2 billion a year earlier. Still, excluding the deal with the feds—which includes a $4 billion penalty paid to the federal government, $500 million to states and the Federal Deposit Insurance Corp., and $2.5 billion in mortgage help for consumers—Citi earned $1.24 per share, well more than the $1.05 analysts expected.
"Despite the significant impact of today's settlement on our net income, our capital position strengthened," Chief Executive Michael Corbat said in a statement.
Federal investigators had been pursuing Citi for selling shoddy mortgage-backed securities in the runup to the financial crisis, hawking them to investors who may not have known what they were buying. After negotiations between the bank and regulators broke down earlier this year, the government was set to file a high-profile lawsuit—until the surprise arrest of a key figure in the 2012 Benghazi embassy attack, the New York Times and Wall Street Journal reported yesterday. Not wanting to share the headlines with that case, prosecutors punted, negotiations resumed, and the $7 billion deal was announced this morning.
Citi is the second big bank to report earnings this quarter, following Wells Fargo on July 11, which saw profit climb 3.8 percent. The bank's shares fell as a 17-quarter streak of rising per-share earnings was broken. JPMorgan Chase and Goldman Sachs announce results tomorrow. Banks are facing slowdowns in their mortgage and bond trading businesses. The KBW Bank Index has returned 3.55 percent this year, trailing a 7.61 percent return for the Standard & Poor's 500-stock index.
Before it's here, it's on the Bloomberg Terminal.
LEARN MORE