Pizza Hut's Newest Dessert Is an 8-Inch Cookie
By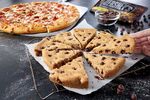 After a Papa John's exec bragged about the popularity of its new pizza-size Mega Chocolate Chip Cookie, Pizza Hut has decided it, too, can make a big old cookie. On Monday, it launches an 8-inch chocolate chip cookie—cut into eight triangular slices—nationwide. It's the second Hershey-branded dessert on Pizza Hut's menu, joining Chocolate Dunkers. You can also get cinnamon sticks, as yet unbranded.
Pizza Hut has not always been on top of menu trends. It just launched barbecue pizza in May, long after Papa John's, Domino's, and California Pizza Kitchen, and customers have not been impressed with its latest efforts. Yum! Brands Chief Executive David Novak called out the chain's hand-tossed pizza as a flop: "The news wasn't strong enough to overcome value-focused competitor activity," he said during a recent earnings call. Same-store sales in the U.S. dropped 5 percent in the first quarter, while Domino's and Papa John's grew 4.9 percent and 9.6 percent, respectively.
Perhaps dessert can help reverse the trend. Based on Pizza Hut's survey of 1,000 people, about 70 percent eat dessert after pizza. The survey showed "a cookie was on top of the list for what they want," says Chief Marketing Officer Carrie Walsh, and it was an opportunity Pizza Hut, with no cookies on the menu, was losing out on. Walsh would not disclose how much its current two-item dessert menu is contributing to sales.
There are obvious comparisons to draw between this cookie and the one offered by Papa John's. But this is about more than one cookie, says Pizza Hut spokesman Doug Terfehr. This is about the dawn of a dessert juggernaut. "Rather than one-off just a cookie, we entered into a partnership with the premier chocolate company in the world." More Hershey-branded desserts, he says, are coming soon.
Before it's here, it's on the Bloomberg Terminal.
LEARN MORE