Parajet's SkyRunner Offers Flying Car
Kari Lundgren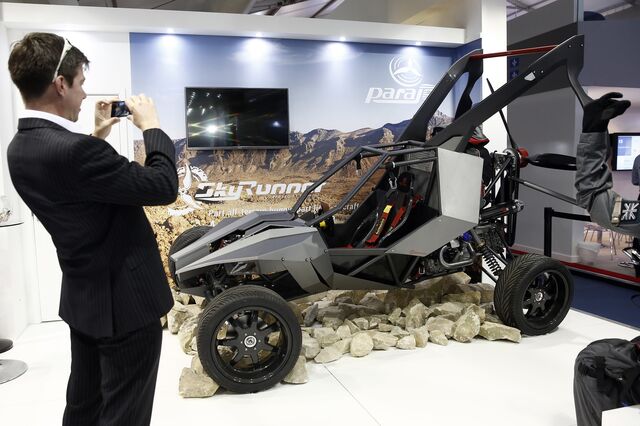 Parajet International Ltd. is seeking customers for its SkyRunner flying car at the Farnborough airshow in England this week as it targets enough orders to justify commercial production of the vehicle, which will be priced at about 80,000 pounds ($137,000).
The car, which works both as a standard off-terrain vehicle and as a flying machine, is on its third prototype after fly-driving from the U.K. to Timbuktu in central Africa in 2009. The most recent model is being tested in Nevada. Capable of reaching speeds of up to 115 miles an hour on the ground and flying for three hours, depending on the size of the fuel tank, the vehicle now just needs a market, Managing Director Tom Prideaux-Brune said at Farnborough.
"We have a lot of interest from the leisure sector, but we're just evaluating potential uses," Prideaux-Brune said. Dorset, England-based Parajet's car may also have military, and search and rescue applications.
Parajet's main product is a foot-launched powered paraglider that uses a lightweight engine and propeller worn on a backpack to take off. The glider can be used in winds as high as 15 miles an hour. Customers include the Palm Bay Police force and adventurer Bear Grylls, who flew it over Mt. Everest. The pack weighs 27 kilograms (60 pounds) and with a week of lessons it costs about 9,500 pounds ($16,230).
Before it's here, it's on the Bloomberg Terminal.
LEARN MORE