London's Biggest Divorce Case Sees Hohn Show No Modesty
Lindsay Fortado and Andrea Gerlin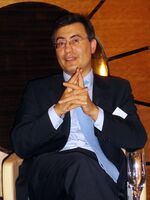 When Jamie Cooper-Hohn, the wife of the billionaire founder of The Children's Investment Fund Management UK LLP, met Christopher Hohn at a dinner party while they were at Harvard University in the early 1990s, she asked what he wanted to do with his life.
"He said he wanted to make a lot of money," she testified in their divorce case in London earlier this month. "I told him I wouldn't date him if all he wanted to do was make money."
Hohn convinced her that he wanted to "make the world a better place," and the couple spent the following two decades building one of the world's largest charitable foundations, fueled by his hedge fund. Now they're fighting over how to divide $1.3 billion in marital assets.
Judge Jennifer Roberts said the case is the largest to reach London -- which has been called the "divorce capital" of Europe because of large awards to non-working spouses. While Cooper-Hohn is seeking half of the family assets, Hohn argues she is only entitled to 25 percent because he made a "special contribution" to the marriage through his trading.
In Hohn's testimony last week, he spoke hesitantly about their relationship, but became animated when discussing investing. He called himself an "unbelievable money maker" and one of the world's top 10 investors.
Hohn's hedge fund, known as TCI, returned 39.7 percent in the first 10 months of last year, making it fifth best in Bloomberg Markets magazine's annual hedge fund ranking, and second best among large European hedge funds managing more than $1 billion. The fund returned 30 percent in 2012.
Up There
"It's pretty up-there," Hohn said. "There are about five to 10 investors" who "have done as well," he said, comparing himself with Warren Buffett, chairman of Berkshire Hathaway Inc., George Soros, the founder of Quantum Fund, once one of the world's largest hedge funds, and Carl Icahn, one of the most famous activist investors.
Hohn is known for his activist investing, buying stakes in companies and pressuring management to make changes that might drive up the share price. After investing in European Aeronautic, Defence & Space Co., TCI pushed the airplane manufacturer to sell its 46 percent stake in Paris-based Dassualt Aviation SA last year and give the proceeds to shareholders. The fund has about $8 billion in assets under management, according to court documents.
Dramatic Returns
"We get dramatic returns that are far in excess of what you'd receive on the stock market," he said.
Hohn's only money-losing year was 2008 when the collapse of Lehman Brothers Holdings Inc. roiled financial markets and contributed to a 43 percent slump for TCI's main hedge fund. The loss triggered client redemptions, prompting assets under management in the fund to drop to 4.38 billion euros ($6 billion) in the first quarter of 2011 from a peak of 12.7 billion euros before the financial crisis, Bloomberg News reported in May 2011. Bloomberg data shows hedge funds on average fell 19 percent in 2008, while the MSCI World Index plunged 42 percent.
While Hohn managed the fund, Cooper-Hohn ran the couple's charity, The Children's Investment Fund Foundation, as chief executive officer until September. She is still non-executive chairman.
Hohn, who was honored by the queen last month for his philanthropic work, has generated wealth of about $5.7 billion in his working life, including $4.3 billion for the charity, Cooper-Hohn's lawyer said in a court hearing before the trial.
Swatch Lifestyle
While Hohn isn't short on confidence, he doesn't exude the wealth he's earned, wearing the same beige suit to court most days with several loose threads hanging from the back. His button-down shirts don't have cufflinks, which many British men wear. He has a black watch on his right arm, taking notes with his left hand, and testified that he lives "a very simple life."
The judge used a timepiece as a metaphor for the couple's standard of living, saying July 1 that they lived a "Swatch lifestyle."
Hohn started his London-based hedge fund after leaving Perry Capital LLC, a U.S. firm, in 2003.
Two Options
"I didn't have to work again," he said. "In my discussions with Jamie, there were two options: retire or make money for a charity. There was never a third option, to make money for ourselves."
The charity, known as CIFF, fights child poverty in developing countries, mostly in India and Africa. CIFF has in the past received a third of TCI's 1.5 percent management fee and 0.5 percent of profits over 11 percent.
He's been asked to speak on malnutrition by Prime Minister David Cameron and meets with Bill Gates "regularly every year," to discuss philanthropy.
"My life isn't dedicated to making money," he said.
Cooper-Hohn said the idea for the charity was hers, while Hohn testified he wanted to help children after working in the Philippines when he was 20 and seeing kids eating out of trash cans. His charitable interests have more recently shifted to climate change and human trafficking, he said.
The couple, who married in 1995, have four children, including triplets. Neither had much money before their marriage, they both testified.
When he first asked her out, she declined, she said.
Same Values
"I said no, you're cute and nice but we don't have the same values," she recalled in her testimony. "He then invited me to see 'Malcolm X' and went on a campaign to show me that we had the same values."
While neither has said in court why their marriage ended, Cooper-Hohn, who's American, has depicted her husband as angry and controlling. She described her British husband as "constantly threatening me" over the operation of the foundation since their marriage fell apart.
"Chris has been exceptionally aggressive towards me and the board has acknowledged that," she said.
Hohn said his wife was "struggling in her job," under an increasing amount of pressure from the foundation's board over her role before she filed for divorce.
"It put pressure on our marriage," he said. "She was never happy with it, she viewed it as a personal failure."
Prior to the financial crisis, he estimates he gave 98 percent of the money he could have had to the foundation. Since his marriage dissolved, Hohn stopped contributing to the charity and it's no longer linked to TCI.
"I no longer wanted to give money," he said.
Before it's here, it's on the Bloomberg Terminal.
LEARN MORE