Germany's Goetze Seals World Cup After Market-Moving Deal Flops
Alex Duff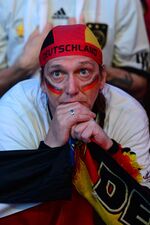 Substitute Mario Goetze ended a dud of a season with Germany's most valuable goal in 24 years.
Bayern Munich's 22-year-old attacking midfielder, dropped by both his club and national team, controlled a pass on his chest and volleyed in for a 1-0 victory over Argentina in the World Cup final in Rio de Janeiro.
The strike with seven minutes of extra time remaining gave Die Mannschaft its first World Cup since taking its third title in Italy in 1990 -- two years before Goetze was born.
"You score the goal and you don't really know what's happening," Goetze told reporters yesterday at the Maracana stadium. "It's absolutely sensational."
Goetze was one of the most talked about players in Germany last year when in April he moved to Bayern Munich from Borussia Dortmund for 37 million euros ($50 million), sending his former team's shares down 2.7 percent.
The biggest financial transaction between two Bundesliga teams came a few weeks before they faced off in the Champions League final in May 2013.
Goetze struggled to establish himself at Bayern, playing in barely half of its league games last season. Even so, the team won the Bundesliga in record time and reached the Champions League semifinal.
Germany coach Joachim Loew, who had dropped Goetze after the second World Cup game, said he "had a good feeling" about him entering as an 88th-minute substitute for 36-year-old striker Miroslav Klose.
Better Than Messi
"I said to Goetze: OK, show the world you are better than Messi and decide the World Cup," Loew said, referring to Argentina's four-time World Player of the Year who hit wide with a second-half shot.
Andre Schuerrle set up Goetze, evading three Argentine players on the left wing and chipping the ball into the penalty box. Goetze cushioned the ball on his chest and fired past goalkeeper Sergio Romero.
Seven minutes later the game was over. Germany players piled on top of each other on the field, while their Argentine counterparts stood alone and stared ahead of them. Goetze went over to hug his girlfriend, who stepped out of the crowd of 74,738 onto the field.
"It wasn't a simple tournament, or year, for me," Goetze said. "I owe a lot to my family and my girlfriend who always believed in me."
The goal marks a surprise turnaround for Goetze's season, according to Julio Maldini, a soccer analyst for Mediaset Espana, a Spanish broadcaster.
"Soccer is like that, you can't tell what's going to happen until the end," Maldini said. "It's indecipherable."
Before it's here, it's on the Bloomberg Terminal.
LEARN MORE