China Celebrity Newscaster Snared in Corruption Case
By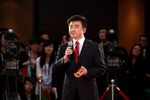 It was reminiscent of the Soviet era. An empty chair with microphone appeared on a Friday evening economics program on CCTV, China's national state-owned television station. Star anchor Rui Chenggang was abruptly taken in for questioning on corruption just before the show aired, along with the deputy director of the broadcaster's economics and finance channel and a producer, reported finance media site CaixinOnline today.
But that's where the similarities ended. The 37-year-old fluent English-speaking television personality likes to wear Zegna suits and drives a Jaguar (according to a 2009 profile in the New York Times.) And while he has made a name for himself as a polished interviewer of CEOs and heads of state including Michael Dell, Meg Whitman, and former U.S. President Bill Clinton, he's also viewed by many as insufferably smug and a sometimes strident nationalist of convenience.
Rui gained more fame when he took on Starbucks, criticizing the Seattle-based company for running a kiosk in China's Forbidden City in 2007. His campaign against Starbucks eventually led to it closing shop in the centuries-old historical site, in July of that year, as I wrote at the time in Businessweek.
"Starbucks has good quality stuff, but it is still a symbol of America's low-class food culture," said Rui Chenggang on Jan. 12, 2007, on his popular blog. "It's maybe O.K. to have a Starbucks around the Forbidden City. But having one inside the City is inappropriate. This is not globalization, but an erosion of Chinese culture."
Then when newly arrived U.S. Ambassador Gary Locke was praised on the Chinese Web for his everyman ways of carrying his own luggage, buying his own Starbucks (that one in the Seattle airport), and flying economy class, Rui went after him. "I hear you flew here coach. Is that a reminder that U.S. owes China money?" he asked the ambassador at a meeting of the World Economic Forum in Dalian in 2011. Locke answered that it was standard practice for U.S. officials to fly economy.
Now things may get more interesting. The official mouthpiece of the party is reporting that Rui may have benefited from his relationship with a Beijing subsidiary of top public-relations firm Edelman. "Rui Chenggang, CCTV anchor now under probe, held shares in Beijing subsidiary ‪@EdelmanPR that provides CCTV services," wrote the People's Daily on its Twitter feed @PDChina earlier today.
Before it's here, it's on the Bloomberg Terminal.
LEARN MORE