Madrid's Water Supplier Preparing to Sell Its First Bonds
Esteban Duarte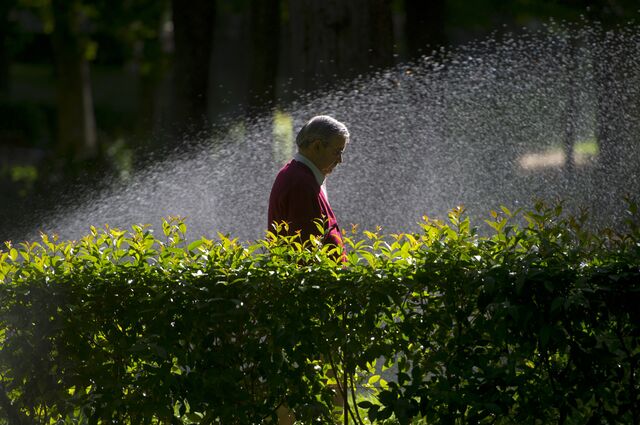 Madrid water company Canal de Isabel II Gestion SA is planning its first bond sale as it seeks to take advantage of favorable terms in the public debt markets compared with bank financing.
The water supplier controlled by the Madrid regional government is working on the transaction with Banco Santander SA, Banco Bilbao Vizcaya Argentaria SA, Societe Generale SA, CaixaBank SA and HSBC Holdings Plc., a press officer for the water company said by telephone. Terms of the transaction haven't been decided, he said.
The company known as Canal Gestion is turning to bond markets after tighter regulation for banks made it more expensive for them to provide loans even to profitable borrowers. The two-year-old management company for Madrid's 163-year-old water supplier is controlled by the governments of the Madrid region and 111 town halls.
At the same time, the central government of Spain, Europe's most water-stressed country, is considering incentives for private investment in water services, Bloomberg News reported April 2, citing a draft of the rules. Water prices in Spain are about 46 percent lower than average for the European Union, according to a PwC report.
Metro de Madrid, the 293-kilometer (182-mile) government-run subway company, has also held preliminary contacts with banks to explore a possible debut in the bond market, according to a spokesman for the regional government who asked not to be identified, citing agency policy.
2015 Targeted
Should the subway company decide to go ahead with the transaction, it wouldn't take place before 2015, he said in an e-mail, in response to questions from Bloomberg News.
The regional government, with 24 billion euros ($32.7 billion) of debt and a BBB rating, Standard & Poor's second-lowest investment grade, has already gone to the debt market this month. On July 7 it sold 546 million euros of nine-year bonds, data compiled by Bloomberg show. The securities were priced to yield 2.88 percent, or 38 basis points above similar duration debt issued by Spanish Treasury.
Canal Gestion provides water-management services to 173 out of the 179 municipalities in Madrid region, and a total of 220 town halls after including those in the rest of Spain and in Colombia, Ecuador and Brazil, according to its annual report.
The company reported a 214.6 million-euro profit for 2013. Its debt totals 1.25 billion euros, or 3.63 times its earnings before interest, tax, depreciation and amortization.
Before it's here, it's on the Bloomberg Terminal.
LEARN MORE