China's Hony Capital Buys PizzaExpress for $1.54 Billion
Jesse Riseborough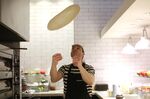 Chinese private equity group Hony Capital Ltd. agreed to buy U.K. restaurant chain PizzaExpress Ltd. for about 900 million pounds ($1.54 billion).
Hony will take control of the pizza maker from Gondola Group Ltd., owned by London-based private equity firm Cinven Ltd., the companies said today in a joint statement.
PizzaExpress operates in 13 international markets, including China and Hong Kong where it owns 22 sites. It has a total of 504 restaurants, of which 436 are in the U.K. Founded in 2003, Beijing-based Hony Capital oversees about $6.8 billion in assets across seven funds, according to its website.
"With PizzaExpress, we have the opportunity to leverage our local expertise to accelerate its growth in the Chinese market, as well as to continue to drive its business forward in the U.K.," John Zhao, chief executive officer of Hony, said in the statement.
The acquisition adds to similar overseas deals by mainland Chinese and Hong Kong-listed companies, which spent $12.3 billion abroad on takeovers and investments in food, drink or agriculture last year, the most in at least a decade, data compiled by Bloomberg show. Bright Food Group Co. acquired British cereal maker Weetabix Ltd. in 2012.
China's WH Group Ltd., the world's biggest pork producer, last year bought Smithfield Foods Inc. for $4.7 billion, making it the largest Chinese purchase of a U.S. company. In May, Bright agreed to pay about $960 million for a majority stake in Israel's Tnuva Food Industries Ltd.
CVC, Advent
The Financial Times earlier reported Hony was in exclusive talks for the purchase of PizzaExpress for about 900 million pounds. Hony beat off competition from another Chinese bidder in Citic Group, the Financial Times said.
Advent International Corp., Charterhouse Capital Partners LLP and CVC Capital Partners Ltd. were poised to make offers for PizzaExpress, four people with knowledge of the talks said in May when first-round bids were due. Gondola received "considerable interest" in the sale, CEO Harvey Smyth said in today's statement.
Gondola was acquired by Cinven in 2006. It was advised by Goldman Sachs Group Inc. on the sale. Hony was advised by JPMorgan Chase & Co.
Hony's interests span from construction materials, pharmaceutical and health care to retail, media and entertainment, financial services, energy and resources, according to its website.
In March Hony teamed up with U.S. buyout firm TPG Capital and two Hollywood producers to build a new movie studio.
Before it's here, it's on the Bloomberg Terminal.
LEARN MORE