Trial of Alleged Bomber's Friend Nears End With FBI Agent
Janelle Lawrence and Erik Larson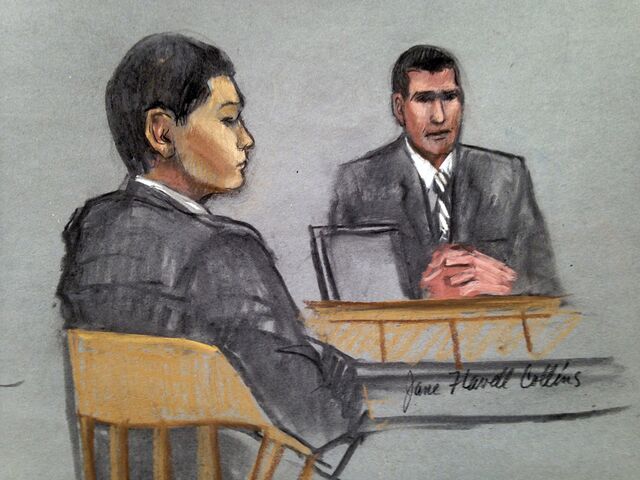 A friend of Boston Marathon bombing defendant Dzhokhar Tsarnaev has left his fate to a jury that will have only the prosecution's evidence to consider when it begins deliberations this week on whether he hindered a probe of the attack.
Defense lawyers for Azamat Tazhayakov called no witnesses after the government rested its case today in Boston federal court, leaving closing arguments July 16 as their last chance to argue that that prosecutors didn't prove their case.
"You will not consider the fact the defendant chose not to testify," Judge Douglas Woodlock admonished the jurors today as he described the government's burden of proof beyond a reasonable doubt. He sent the jury home and set closing arguments for July 16.
"The defense has been able to bring up some issues on cross examination and they think, in the grand scheme of things, that's enough to create reasonable doubt" in the minds of jurors, said Walter Prince, a defense lawyer and former federal prosecutor who isn't involved in the case.
Defense attorney Matt Myers said after court that he didn't call witnesses "because we don't have the burden of proof." The defense is comfortable the government's evidence didn't prove Tazhayakov obstructed justice, he said.
"It will be up to the jury to decide whether they can rely on these statements that weren't written down and weren't signed by my client," Myers said outside the courthouse.
20-Year Penalty
Tazhayakov, 20, who was a student at the University of Massachusetts at Dartmouth, is on trial for conspiracy to obstruct justice, a crime with a top penalty of 20 years.
The government rested its case after the testimony of FBI agent John Walker, who led a raid on the friends off-campus apartment on April 19, 2013, when the FBI thought Tsarnaev might be hiding there.
Walker testified he warned Tazhayakov to cooperate.
"I told him Dzhokar's life was effectively over, whether he was still living or going away, his life was effectively over," Walker said. "The defendant's life did not need to be over" and he urged him to give truthful information, he said.
Tsarnaev, 20, goes on trial in November and may face the death penalty if convicted for the attack.
Tazhayakov and another friend, Dias Kadyrbayev, told the agent after the April 2013 attacks that they had tossed Tsarnaev's backpack in a garbage receptacle and watched it trucked away, Walker said today.
Immediate Replies
They "immediately and simultaneously" answered his questions, he said.
Kadyrbayev also is charged with conspiracy to obstruct justice. A third friend, Robel Phillipos, is charged with making false statements to federal agents, a lesser crime. Each will be tried separately.
In the trial, which started a week ago, agents quoted Tazhayakov as saying he and Kadyrbayev visited Tsarnaev's residence during the hunt for the bombers after the attack and took away his backpack, a computer, fireworks and a jar of Vaseline.
Tazhayakov said Kadyrbayev picked up a jar of Vaseline and whispered, "I think that he used this to make bombs," according to FBI testimony.
The backpack and Vaseline were recovered and introduced as prosecution exhibits.
Defendant's Father
Tazhayakov's father, Amir Ismagulov, said his son is innocent and the jury should find him not guilty.
"The prosecution did not prove their position at all," he said in Russian outside the courthouse. "Everybody saw the agents changed their answers several times,."
The father said his son didn't call the FBI when the first photos of the bombing suspects were released because he wasn't sure Tsarnaev was the bomber. "He didn't know," Ismagulov said.
Two explosions near the finish line of the Marathon on April 15, 2013, killed three people and injured 260. Tsnarnaev allegedly committed the crimes with his brother Tamerlan, who was killed in a police shootout.
The case against the three friends is U.S. v. Kadyrbayev, 13-cr-10238, and the Tsarnaev case is U.S. v. Tsarnaev, 13-cr-10200, U.S. District Court, District of Massachusetts (Boston).
Before it's here, it's on the Bloomberg Terminal.
LEARN MORE