Taco Bell Makes a Run for the Protein-Heavy Food Fad
by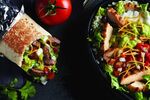 Tapping into America's current obsession with protein—or at least the obsession of food manufacturers amping up the nutrient to sell everything from Cheerios to cream cheese—Taco Bell will launch a new menu nationwide next week that features twice the amount of chicken or steak inside burritos.
The items on the new Cantina Power, which makes its debut July 17, have more than 20 grams of protein and fewer than 500 calories. It's a faintly nutrition-oriented alternative to Taco Bell's dieter-targeted low-calorie and low-fat menus, which Bloomberg News reporter Leslie Patton noted had not been resonating with customers. "People are not looking for diet food," said Brian Niccol, Taco Bell's president and chief executive-to-be, on a conference call with reporters. "What they are looking for is food that gives them energy, food that's going to give them freshness, food that's going to give them the protein."
Last year the taco chain tested the protein concept under the Power Protein moniker in Ohio and used Fresco Power in Southern California. The new Cantina Power configuration departs subtly from the marketing on those test menus to emphasize "power" rather than protein. Taco Bell also announced that it is testing a Power Breakfast menu with a steak bowl, steak burrito, and Greek yogurt.
Before it's here, it's on the Bloomberg Terminal.
LEARN MORE