Rupiah Climbs Most This Week Since February as Rupee Declines
Kyoungwha Kim and Yudith Ho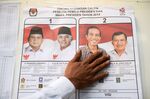 The rupiah led gains in Asia and had its biggest weekly rally in five months on signs Joko Widodo won Indonesia's presidential race, while South Korea's won and India's rupee declined.
Widodo, known locally as Jokowi, had about a five percentage point lead, according to unofficial counts from two survey companies that declared him the winner of the July 9 vote, a projection disputed by his opponent, Prabowo Subianto. Official results will be announced by July 22. Most Asian currencies declined yesterday after signs of financial distress in Portugal fueled demand for the safety of the dollar.
"We can see a further rally after the final result, even if much of the expectation for Jokowi's win has been priced in," said David Sumual, chief economist at PT Bank Central Asia in Jakarta. "The focus will turn to the new cabinet."
The rupiah gained 2.5 percent this week to 11,590 per dollar yesterday in Jakarta, the most since the five days ended Feb. 14, prices from local banks show. The won weakened 1 percent to 1,018.92 and the rupee dropped 0.3 percent to 59.9350. The Bloomberg JPMorgan Asia Dollar Index fell 0.1 percent yesterday and was little changed this week.
Foreign money managers have plowed $4.6 billion into Indonesian shares since December, surpassing the full-year record, on optimism Widodo will replicate nationally the success he had as Jakarta governor in cutting red tape and increasing tax revenue.
Korea, India
The Bank of Korea reduced its 2014 expansion projection on July 10 to 3.8 percent from 4 percent even as it held its benchmark rate at 2.5 percent. There is a possibility of a rate cut this quarter, Nomura Holdings Inc. and Goldman Sachs Group Inc. said in reports July 10. The won fell 0.5 percent yesterday, data compiled by Bloomberg shows.
"Rate-cut speculation will weaken the won or ease its appreciation pressure," said Park Daebong, a Seoul-based currency trader for Nonghyup Bank. "There will be some unwinding of dollar short positions on Portugal concerns." A short position is a bet an asset will fall in value.
A parent of Banco Espirito Santo SA, Portugal's second-largest lender, missed debt payments this week. That sparked renewed concern over the European banking system, overshadowing Indian Finance Minister Arun Jaitley's plan to achieve the lowest budget deficit since 2008.
The yuan was little changed at 6.2037 this week, China Foreign Exchange Trade System prices show. China is committed to reducing currency intervention as conditions allow, according to a joint statement with the U.S. after the Strategic and Economic Dialogue in Beijing ended July 10. U.S. Treasury Secretary Jacob J. Lew called the pledge a "big change."
Elsewhere in Asia, Thailand's baht rose 0.7 percent from July 4 to 32.158 per dollar and the Malaysian ringgit was steady at 3.1858. The Philippine peso and Taiwanese dollar weakened 0.2 percent to 43.552 and NT$29.99 respectively, while Vietnam's dong gained 0.4 percent to 21,200.
Before it's here, it's on the Bloomberg Terminal.
LEARN MORE