Rio Mayor Will Offer Free Olympic Tickets After Elite World Cup
Tariq Panja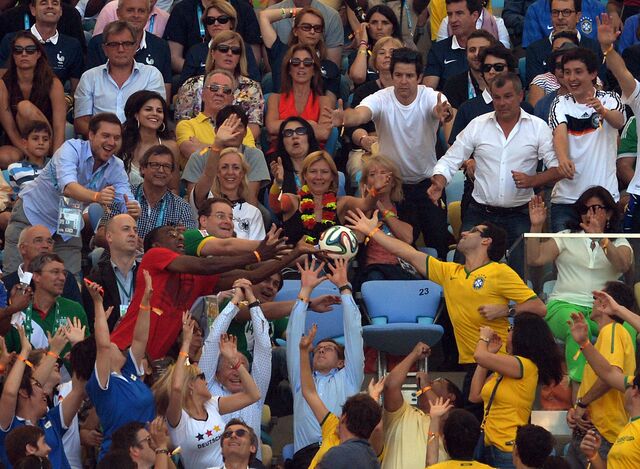 Rio de Janeiro's mayor will offer some free tickets to the 2016 Summer Olympics to make crowds more diverse than at soccer's World Cup.
Fans attending World Cup games in 12 cities haven't reflected the ethnic makeup of South America's most populous country, notably its majority black population.
"What we will do is give some subsidies for some of the tickets," Mayor Eduardo Paes told reporters yesterday. "We will try to do something more democratic."
A Datafolha poll showed 67 percent of those attending Brazil's second-round penalty shootout win against Chile on June 28 classified themselves as white, while 90 percent said they came from Brazil's top two economic classes, representing about 15 percent of the country's population.
The lack of diversity in stadiums comes in a country that has more black people than any other, with the exception of Africa's largest nation, Nigeria.
A small number of tickets for World Cup group games were made available for as little as $15 to disabled fans, the elderly and recipients of state benefits. Ticket prices for the Olympics haven't been announced.
In a country whose most famous person is black soccer icon Pele, the visibility of the black population is low in spheres including the media, business and politics.
Low Visibility
President Dilma Rousseff's cabinet of 39 includes one black minister, secretary of racial equality Luiza Bairros, while none of the companies listed on Brazil's 70-stock IBOVESPA main index has a black chief executive officer.
Black workers earn about half the average 1,914 reais ($862) per month of their white counterparts, according to statistics institute IBGE.
Racism was made a crime in Brazil in 1988, and Rousseff and World Cup organizer FIFA have been using the tournament to promote an anti-racism message.
Previously low ticket prices meant Brazil's racial mix used to be more visible in soccer stadiums. That's changed as prices have surged to fund new stadiums, including 12 for the World Cup at a cost of more than 8 billion reais.
"The price of tickets has created an economic problem and blacks don't have the economic level of whites in Brazilian society yet," Toninho Nascimento, the sports ministry's national secretary for soccer, said in a pre-World Cup interview.
While blacks and mixed-race Brazilians made up 53 percent of the population in 2012, they accounted for 16 percent of the richest 1 percent, according to IBGE.
Before it's here, it's on the Bloomberg Terminal.
LEARN MORE