Infiniti's De Nysschen to Take Over GM's Cadillac Brand
Tim Higgins, Ma Jie and Yuki Hagiwara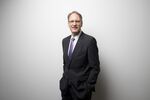 General Motors Co. will name Johan de Nysschen head of its Cadillac luxury brand, said a person familiar with the change who asked not to be identified because the plan wasn't yet public.
De Nysschen resigned earlier today as Nissan Motor Co.'s head of its Infiniti luxury line after two years on the job.
His appointment to head Cadillac would follow yesterday's announcement that Bob Ferguson, who had led the brand since 2012, would officially return to Washington as senior vice president of global public policy, responsible for GM's federal, state and international government relations and public policy activities in the U.S. and its markets around the world. Terry Rhadigan, a GM spokesman, declined to comment on plans for Cadillac.
De Nysschen, who helped Volkswagen AG's Audi sales in the U.S. increase 42 percent from 2005 through 2011, arrives at Cadillac as GM tries to build on last year's momentum created by some of the brand's best new products in a generation, including the ATS compact sedan car and redesigned CTS sedan. U.S. Cadillac sales fell 1.9 percent this year through June after rising 22 percent in 2013 compared to 2012, according to researcher Autodata Corp.
Motor Trend last year named the CTS its car of the year while the ATS won North American Car of the Year at the Detroit auto show in January 2013.
De Nysschen's Infiniti resignation was announced internally today, brand spokesman Stefan Weinmann said. Andy Palmer, Nissan's chief planning officer overseeing the Infiniti business, will head the luxury unit in the interim as the company searches for a successor, he said.
China Market
De Nysschen's departure comes as Infiniti, which moved its headquarters to Hong Kong to focus on the Chinese market, prepares to begin production in the world's biggest auto market. Infiniti is targeting 10 percent of the world premium market by 2020 to challenge Volkswagen AG's Audi, Bayerische Motoren Werke AG and Daimler AG's Mercedes-Benz.
De Nysschen, who wasn't available to comment, was recruited two years ago from Audi, where he worked for almost two decades. By 2011, his last full year running the German brand's U.S. unit, sales climbed 42 percent from 2005.
Automotive News, which earlier reported on de Nysschen's departure, reported the executive has talked with General Motors Co. about working for the U.S. automaker's Cadillac brand.
Infiniti Tenure
During de Nysschen's two-year tenure as head of Infiniti, the premium brand has expanded into markets from South America to Southeast Asia, and has announced production plans for China, U.K., and Mexico.
Production in China will start this year for two long-wheelbase models, as foreign automakers step up investments to increase their share in the country, which McKinsey & Co. predicts will overtake the U.S. to become the top market for luxury vehicles by 2016.
Last month, Nissan and Daimler said they will assemble as many as 300,000 Mercedes-Benz and Infiniti compact cars at a new facility near Nissan's plant in Aguascalientes, Mexico. The first Infiniti cars are due to roll off the line in 2017. The carmaker will also start making Q30 compact cars in the U.K. from next year.
Executive Recruiting
While de Nysschen is leaving, Infiniti has been recruiting executives from rivals since Nissan moved the brand to Hong Kong two years ago to give it more autonomy as CEO Carlos Ghosn counts on it to help Nissan reach an 8 percent operating margin by March, 2017.
This month, Infiniti said it hired Gaby-Luise Wuest from BMW as its new vice president for global operations, effective Sept. 1. In China, Infiniti hired BMW's Daniel Kirchert, a fluent Mandarin speaker who had headed the German carmaker's expansion in the country since 2007.
Today's disclosure comes days after Infiniti said its first-half sales rose 30 percent to a record, with deliveries in China more than doubling from a year earlier.
Before it's here, it's on the Bloomberg Terminal.
LEARN MORE