New York Is Offering Undocumented Immigrants IDs
By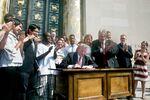 A bill signed on Thursday by Mayor Bill de Blasio will make New York the country's largest city to offer a municipal ID card to all residents—including undocumented immigrants. The cards will make carriers eligible to use city services, like lending libraries, but the city is negotiating with banks to help holders access financial services, too.
Over the past eight years, as immigration reform has stalled repeatedly in Congress, similar ID programs have passed in several cities, including Los Angeles and San Francisco. New York's city council passed its bill last month, after House Republicans declared the latest reform effort dead. Some of the same groups behind the New York City bill are backing a more ambitious effort to pass a statewide bill under which undocumented immigrants could be declared citizens of New York State—an effort that may be quixotic, but one that comes just as President Obama has signaled he plans to make greater use of his authority to make immigration changes without Congress at a federal level.
There's a lot Obama could legally do on his own—including granting work authorization to the majority of the country's undocumented immigrants—but the potential political backlash appears likely to hold him back. "All of the lawyers that we've talked to say, you know, the political constraints are going to kick in before the legal constraints," says Frank Sharry, who directs the immigration advocacy group America's Voice.
In New York, oddly, one of the loudest voices opposing the new ID card was the New York Civil Liberties Union, which says the city's plan to store applicants' application documents for up to two years in order to facilitate fraud investigations opens up concerns about privacy, and possible misuse of the database by federal immigration authorities. "We are disappointed that the city is inviting New Yorkers to gamble with the stakes as high as prosecution or even deportation," the NYCLU's advocacy director, Johanna Miller, said in a statement.
Before it's here, it's on the Bloomberg Terminal.
LEARN MORE