Leave It To the French To Design the First Stylish Smartwatch
by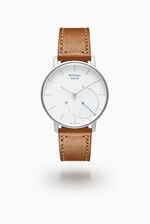 Not long ago, a group of Frenchmen at the health tracking company called Withings took a close look at sporty wearables such as Fitbit and Jawbone - and essentially said: quoi?
"We found that activity trackers were not that wearable," says Withings' Parisian CEO Cedric Hutchings. "So we created a smartwatch that can truly be integrated into your wardrobe."In Hutchings' view, it's 'le moment' for fusion between fashion and tech. So, with the help of Swiss watchmakers, Withings created the world's first luxury smartwatch "Activité" for double the price of most fitness trackers on the market ($390).
WATCH: Cedric Hutchings Discusses the Withings Activité

The waterproof watch digitally tracks sleep patterns, steps taken, and calories burned, all while connecting to iOS devices, much like Jawbone. But instead of rocking the black snake look, it boasts a light, round face hugged by a soft tan leather strap, apparently shipped from an 'ancestral' French tannery.
Still, with a one-year battery life, this watch isn't exactly made of sturdy family heirloom stuff. In the spectrum of luxury watches, it falls closer to Apple's iWatch than a Patek Philippe.
"I love new tech. I'm a gadget guy. And it's an attractive watch," says Ruediger Albers, President of watchmaker and jeweler Wempe, who concedes there is a 'big market' for smartwatches. But it doesn't concern him, as a maker of more traditional timepieces. "Digital and electronic pieces are replaceable. This won't displace demand for fine watchmaking."
Albers wears a $150 Jawbone on one wrist because he 'doesn't get enough sleep' and a $25,000 Patek Philippe on the other, because he appreciates its beauty and the craftsmanship that went into making it. "It's like the difference between a Bentley and Hyundai," he adds.
Withings, as the promotional "Activité" video suggests, is targeting something in between. It features two very fit young urban professionals presumably running to very important meetings. The message: 'Activite' wearers are as charmingly narcissistic as they are tech savvy.
"I'd prefer a fancy Swiss smartwatch to my Nike FuelBand -- which broke," says marathon runner and busy Boehringer executive Stephan Klaschka, 42. "I want the simplicity of tracking my activities -- calories and steps -- without needing a separate watch." For now, Klaschka will have to stick with his Baume & Mercier -- because "Activité" does not go on sale in France, the UK, and the Americas until the Fall.
Before it's here, it's on the Bloomberg Terminal.
LEARN MORE