Indonesia Could Face Its Own Extra-Tense Bush v. Gore Moment
By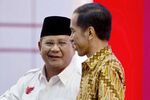 Is Indonesia about to have its Bush v. Gore moment? Just as Americans endured weeks of uncertainty following the disputed 2000 election, Indonesians are now facing a presidential campaign that goes into extra time.
After the election on Wednesday, the reformist governor of Jakarta, Joko Widodo (commonly known as Jokowi), claimed victory. But his rival, former general Prabowo Subianto, says he's ahead and refuses to concede. The election commission will probably announce a winner on July 21 or 22, but the fight could go on much longer.
Many investors are rooting for Jokowi, so the news that Prabowo isn't going quietly helped send local stocks downward. The benchmark index, which has jumped more than 17 percent this year amid optimism of a Jokowi victory, fell 1.3 percent on Friday, the first decline this week.
Counting votes in the vast archipelago is no easy task, and an ongoing fight about the election results raises the chance of violence in the streets, Wellian Wiranto, economist at Oversea-Chinese Bank in Singapore, told Bloomberg Television in an interview. Accusations of fraud could lead to "nightmare scenarios," he said, and increase the risk of things "boiling over."
Even if Indonesia avoids bloodshed, though, the new president may find himself without a mandate to push changes through a fragmented parliament. "We do not expect large policy shifts regardless of the official election result, as both camps have sought to address largely the same—such as infrastructure development—with differences only in the respective approaches," Christian de Guzman, a senior analyst with Moody's, wrote in a report on Thursday. "The immediate challenge to the incoming administration will likely be to forge a governing majority in parliament by bringing other political parties on its side."
One hopeful sign for a would-be President Jokowi: Getting the opposition to support him may not prove so difficult. Golkar, the party of former dictator Suharto, may be readying to switch sides and give Jokowi a majority in parliament, reports Bloomberg News. It's not possible for Golkar to be in opposition, Zainal Bintang, deputy chairman of the party's advisory board, told Bloomberg. The party already has ties with Jokowi, whose vice presidential running mate is Jusuf Kalla, a former chairman of Golkar.
A clear victory for Jokowi, followed by support from Golkar, would give the new government a chance to focus on reforming Indonesia's costly fuel subsidies. They're big and getting bigger: The government set aside 246.5 trillion rupiah ($21.3 billion) for energy subsidies in its new budget, up from an earlier estimate of 210.7 trillion.
Given challenges like that, don't expect too much, warns Standard & Poor's. "We expect reform progress to be slow no matter who is elected. Any boost to policy-making and growth prospects is likely to be insufficient to strengthen the sovereign credit rating on Indonesia," said S&P credit analyst Agost Benard in a statement.
Before it's here, it's on the Bloomberg Terminal.
LEARN MORE