India's Grand 'River Linkage' Project: Agricultural Salvation or Folly?
Christina Larson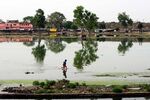 As India's population grows—and its people become more prosperous—so too does its demand for food expand. In meet rising food needs, the Indian government wants to increase the amount of arable land by expanding irrigation and controlling flood damage during the annual monsoon season.
One ambitious—or possibly reckless—plan has been on the drawing board for years: the National River Linking Project (NRLP). As envisioned by India's National Water Development Agency, the massive engineering project would consist of a network of 15,000 kilometers of canals and tunnels to transport water from bountiful rivers to parched regions of India, transferring up to 174 billion cubic meters of water annually.
India's newly elected Prime Minister Narendra Modi, who calls the project a national "dream," appears to support laying the groundwork to move the NRLP forward, as Science reported on Friday, July 11. "All possibilities will be explored for early implementation of the river interlinking project," the new water minister, Uma Bharti, told the journal.
The estimated price tag is a hefty $168 billion. Meanwhile scientists, hydrologists, and others worry about potential unintended consequences of reshaping India's river system, including the possibility of spreading waterborne diseases, disrupting fish migration, and inviting invasive species to travel along channel routes.
"The river linking project is a dangerous move which may lead to environmental disaster," Pradeep Purandare, a researcher at the Water & Land Management Institute in Aurangabad, told the Times of India on July 11. While acknowledging that government efforts to "improve irrigation facilities [are] a welcome step," he said he worried that poor infrastructure planning and implementation, coupled with local corruption, could turn the project into a dangerous boondoggle.
If built as planned, the NRLP would transfer a volume of water equal to almost a third of the total withdrawn from U.S. aquifers annually, according to Science.
Before it's here, it's on the Bloomberg Terminal.
LEARN MORE