How to Play a European Rebound
by
Europe is down, but certainly not out. While the STOXX Europe 600 Index (roughly equivalent to the U.S. S&P 500 Index) has fallen 3.96 percent during the past month, the uptrend which began last August is still intact.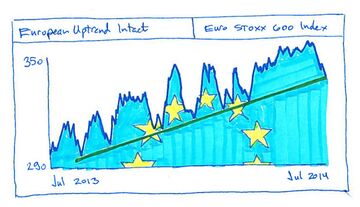 Europe's 3.96 percent decline since June 10 stands in stark contrast to the performance of the the S&P 500 Index, which has gained 0.68 percent during the period. Europe has had to struggle through another episode of missed bond payments due a large bank (Portugal's Banco Espirito Santo SA), as well as persistently weak economic data. Concern over energy supplies from Russia via Ukraine has further complicated the investment outlook.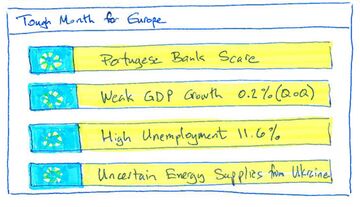 The recent sell-off in Europe constitutes the seventh in less than a year, and yet each of these has been followed by rallies to new highs. One hour ahead of today's European close, the STOXX Europe 600 Index is up 0.23 percent, compared to yesterday's 1.58 percent intraday swoon. We expect this modest uptick will continue, especially in light of European Central Bank President Mario Draghi's supportive comments earlier this week (see July 8's blog).
So today we screen Europe's index for companies forecast to grow earnings at least 25 percent this year. In addition, we included only those companies with no sell ratings, based on analysts tracked by Bloomberg.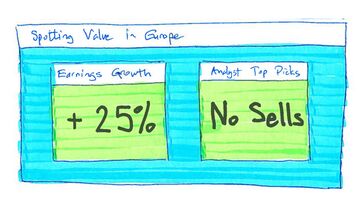 Nine companies met our criteria. Our objective was not to cast a wide net, but to cherry pick only the strongest European buy candidates. Since they are up an average of 10.3 percent this year, compared to 6.2 percent for the S&P 500 Index, we believe we're on the right track.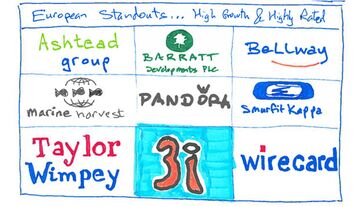 Ashtead Group Plc (AHT LN); Barrett Developments plc (BDEV LN); Bellway PLC (BWY LN); Marine Harvest (MHG NO); Pandora A/S (PNDORA DC); Smurfit Kappa Group PLC (SKG ID); Taylor Wimpey plc (TW/ LN); 3i Group plc (III LN); Wirecard AG (WDI GR).
Before it's here, it's on the Bloomberg Terminal.
LEARN MORE