BlackRock Says Sensex to Double in Three Years on Modi Road Map
Rajhkumar K Shaaw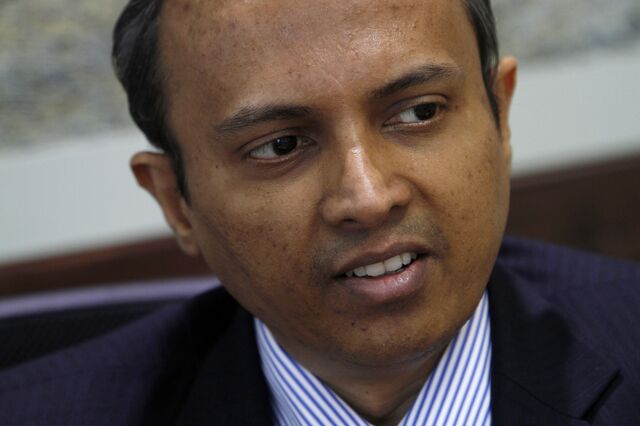 India's benchmark stock index may double in the next three years after Prime Minister Narendra Modi laid the groundwork for strengthening Asia's third-largest economy in yesterday's budget, according to BlackRock Inc.
The nation's expansion will accelerate to at least 7 percent in the next fiscal year from less than 6 percent this year as growing business confidence leads to higher capital spending, S. Naganath, the chief investment officer of the world's largest money manager's India joint venture, said in an interview yesterday. Corporate earnings growth will probably climb to as much as 20 percent from 15 percent, he said.
"There is a high probability that the bellwether index could easily double from here in three years' time," Naganath, who oversees about $5.7 billion, said by phone from Mumbai. "I am quite bullish."
Modi's government, two months into power after winning India's biggest election victory in three decades, outlined plans yesterday to retain the nation's budget deficit target at the lowest level since 2008 while introducing tax breaks to spur economic growth. The benchmark S&P BSE Sensex has rallied 20 percent this year, the best performance among the world's 10 biggest markets, as foreigners poured $11 billion into Indian shares, data compiled by Bloomberg show.
The DSP BlackRock India T.I.G.E.R. Fund, designed to buy stocks that benefit most from growth-boosting policies, returned 42 percent this year, beating 96 percent of its peers, the data show. The Sensex climbed 0.2 percent to 25,419.86 at 10:08 a.m., halting a three-day slide.
Exciting Times
India's $1.86 trillion economy grew 4.7 percent in the year ended March 31, after a decade-low expansion of 4.5 percent the previous year. The finance ministry said this week it expects the economy to expand as much as 5.9 percent.
The "capital spending cycle and investment cycle will start gathering momentum in the next six to nine months," Naganath, 49, said. "That's what is exciting."
Modi faces the challenge of boosting economic growth from near a decade low while narrowing one of Asia's widest deficits. Finance Minister Arun Jaitley yesterday unexpectedly retained the fiscal shortfall target at 4.1 percent of gross domestic product, and unveiled plans to "overhaul" food and fuel subsidies.
He proposed extending a 10-year tax break for new power plants and gave incentives to real-estate investment trusts. The government will also ease rules on foreign investment in the defense and insurance sectors, and pledged to build more highways, airports and ports.
Details Lacking
Not everyone is so optimistic about the budget. Jaitley's speech lacked details on how the reduction in the deficit will be achieved, Moody's Investors Service said in a statement yesterday.
Steps to spur growth, such as infrastructure development and allowing higher foreign direct investment in defense, are "unlikely to lead to a significant acceleration from current levels unless accompanied by a decline in inflation, interest rates and regulatory constraints on investment," Moody's said.
The prospect of lower borrowing costs and higher earnings is keeping Naganath bullish. Interest rates will likely remain "stable, or may be even softer," in the next six to 12 months, he said.
Consumer inflation slowed to 8.28 percent in May from as much as 11.2 percent in November after the Reserve Bank of India governor Raghuram Rajan raised interest rates three times since September to cap living costs. Inflation is on course to fall below 8 percent, the RBI's target level for January 2015, this year, Rajan said yesterday in Chennai.
Earnings Growth
Infosys Ltd., India's second-largest software exporter, today posted first-quarter profit that beat analyst estimates, marking the beginning of the earnings season for the three months ended June.
Sixty percent of Sensex companies posted earnings that beat or matched estimates in the March quarter, while about 73 percent of results exceeded forecasts in the previous quarter, data compiled by Bloomberg show.
Naganath favors shares of financial, engineering, capital goods, energy, technology and pharmaceutical companies.
"I remain optimistic about growth," he said. "As growth picks up, revenue buoyancy will be seen."
Before it's here, it's on the Bloomberg Terminal.
LEARN MORE