We Are All Texans Tomorrow: 1,001 Blistering Future Summers
by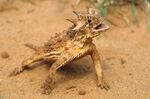 If you live in Phoenix, Arizona, and find the summers there just aren't hot enough for you, you're in luck. Just stick around long enough, and it'll feel just like Kuwait City, where the average summer day registers a lizard-pleasing 114 degrees Fahrenheit (45.6 Celsius).

This new interactive map by nonprofit research group Climate Central draws lines, literally, between the cities of today and the cities they'll feel like by the end of this century if greenhouse-gas pollution continues on its current path.
For example, the average summer day in Manhattan reaches 82 degrees, but by 2100 it will feel like Lehigh Acres, Florida, at 92 degrees. Summers in Saint Paul seem too chilly? Hang tight, and before long it will feel just like Mesquite, Texas.
Climate Central analyzed 1,001 U.S. cities. Click on the image below and fill in the sentence "I live in <type city here>", and see how you (or your grandchildren) might fare by the end of the century. Most of the lines will take you to southern U.S. cities, but some locales must be transported to Middle East to find equivalent temperatures.
The forecasts are based on worst-case emissions projections by the UN Intergovernmental Panel on Climate Change, and temperatures were calculated using data from PRISM Climate Group at Oregon State University. Find more about the methodology here.
The comparisons don't take into account humidity, which makes stifling weather even more unbearable. Global warming may be worsening humidity by increasing the amount of moisture the atmosphere can hold. Some days the heat and humidity may combine for conditions more deadly than the U.S. has ever seen, according to a recent analysis.
Which is excellent news if you're a lizard, or living under a rock.
More from Tom Randall:
Before it's here, it's on the Bloomberg Terminal.
LEARN MORE