Ukraine Uses Air Strikes in East as EU Readies Sanctions
Kateryna Choursina and James G. Neuger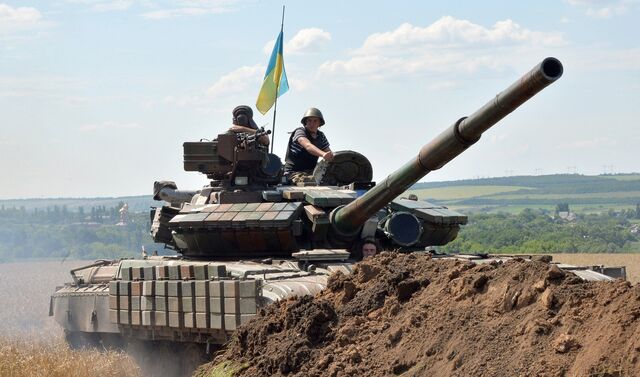 Ukraine hit separatists near Donetsk with air strikes, saying it killed more than 50, as the European Union geared up to expand sanctions in response to the pro-Russian insurrection that's rocked the country since March.
Three Ukrainian soldiers died and 12 were wounded yesterday, the Defense Ministry said on Facebook, while government troops retook a checkpoint on its border with Russia. As the fighting continued, EU governments planned to impose asset freezes and travel bans on 11 more people accused of fomenting unrest, two officials said. The U.S. also said more Russian sanctions are possible.
Ukrainian President Petro Poroshenko dismissed Russia's declaration that the separatists want peace talks and pressed on to regain territory as rebels hunkered down in the largest eastern city Donetsk, a city of about one million people, after abandoning other nearby towns at the weekend. Russian Foreign Minister Sergei Lavrov has said the militias are ready for talks and "ultimatums and pre-conditions" must not stand in the way of peace efforts.
"Although the army now controls more of the Donbass territory, fighting the rebels in the densely populated cities of Donetsk and Luhansk is going to be tricky," Tatiana Orlova, a London-based economist at Royal Bank of Scotland Group Plc, said yesterday by e-mail. "This phase of the military operation can be very protracted in the absence of a peaceful resolution."
Merkel, Hollande
Ukrainian aircraft hit militants and their bases across the Donetsk and Luhansk regions, killing more than 50 near Izvaryne, a town on the border with Russia, Defense Ministry spokesman Vladyslav Seleznyov said on Facebook yesterday.
A mortar round hit a bus carrying workers from DTEK, a coal-mining and power producing company owned by Ukraine's richest man Rinat Akhmetov, killing and wounding an unspecified number, according to a statement from the company. DTEK said it had suspended operation in some facilities due the violence.
Poroshenko told German Chancellor Angela Merkel and U.S. Vice President Joe Biden by phone last night that he was ready for truce talks with the rebels if a cease-fire monitoring system can be put in place and weapons and fighters stop flowing over the border from Russia into Ukraine, his office said in a statement.
EU Division
Merkel said Organization for Security and Cooperation in Europe monitors - two groups of which were abducted by rebels in May - couldn't access the border because of separatist activity there, according to the statement.
Earlier, Merkel and French President Francois Hollande told Russian President Vladimir Putin that Russia should use its influence to facilitate an immediate meeting between the separatists and representatives of Ukraine and the OSCE, according to a German government statement. The leaders agreed a cease-fire is the highest priority.
The EU's first opportunity to consider wider penalties on Russian industry, investment or trade will be at a July 16 summit. Objections by countries such as Italy, Austria, Slovakia, France and Greece have frustrated moves toward broader sanctions, which require unanimity.
"The important thing would be to stay together, that there's no division within the EU," Italian Foreign Minister Federica Mogherini said yesterday in an interview in Dubrovnik, Croatia. The lack of a cease-fire in the coming weeks may trigger sectoral sanctions against Russia, she said.
U.S. Measures
Russia's Micex Index of stocks fell 0.2 percent -- its third decline in as many days -- to 1,491.35 at 11:34 in Moscow. Ukraine's hryvnia was 0.1 percent weaker at 11.69 per dollar. It's lost 30 percent this year, the worst performance among more than 170 currencies tracked by Bloomberg.
Most of the new EU targets for penalties are separatists, one of two officials said. The penalties will take effect if no government from the 28-member bloc objects by midday today. The EU has blacklisted 61 people connected with the destabilization of Ukraine and Russia's annexation of Crimea.
As diplomacy continued, the U.S. Treasury Department said it was pushing ahead with preparations to impose more sanctions on Russia if Putin "does not take immediate steps toward de-escalation," Assistant Secretary Daniel Glaser told the Senate Foreign Relations Committee in Washington.
Relations between Ukraine and Russia soured further as the government in Kiev said one of its military officers was captured by separatists last month and taken illegally across the border. Russia denied snatching the female pilot, who it alleges was involved in the death of two Russian reporters.
Russia also said yesterday its neighbor fired on a border post, while Ukraine accused Russia of massing forces on the frontier. The conflict has also hit businesses in the region. Cargill Inc. halted work at a sunflower-oil plant in the Donetsk region on July 4 and said it was occupied by gunmen.
Before it's here, it's on the Bloomberg Terminal.
LEARN MORE