Tepco Says It Has Turned Corner on Fukushima Nuclear Clean-Up
Yuriy Humber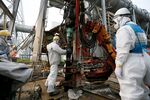 Tokyo Electric Power Co. said that after three years of mishaps it's starting to gain control over decommissioning work at its Fukushima Dai-Ichi nuclear station, as Japan's biggest utility begins building an ice wall around the damaged reactors.
More than 100 of the 1,571 cooling pipes due to surround reactors 1 to 4, where most of the radiation is emitted, have been installed and work is on schedule to meet the March 2015 deadline, Fukushima Dai-Ichi chief Akira Ono said at an on-site briefing yesterday.
The aim of the 33-meter-deep fence is to freeze soil to -30 Celsius (-22 Fahrenheit), preventing groundwater from flooding reactor basements and becoming contaminated. With about 400 metric tons of water flowing toward the station daily from surrounding hills, Tokyo Electric has struggled to decommission the reactors while accumulating thousands of tons of irradiated water that must be treated before being released into the sea.
Even at this early stage the effectiveness of the ice wall has been questioned, after the company encountered difficulties in freezing water in a trench running from a turbine building to the sea, before it had begun the main task of freezing soil.
It's added to a litany of problems at the site, from leaky tanks storing irradiated water to the breakdown of contaminated water treatment systems. The mishaps pose the question as to whether Tokyo Electric can manage the aftermath of the March 2011 earthquake and tsunami, which sparked the worst nuclear accident in a quarter of a century.
Fukushima Dai-Ichi chief Ono said the company has turned a corner.
Recognizing Issues
"In terms of managing the facility, major improvements have been made in the last three years, though we know it's not 100 percent yet and we're working to get better," Ono said. "There are many issues at Dai-Ichi. However, we recognize them and that means we are taking measures to deal with them."
Rather than hope that the ice wall project will be a one-stop solution, Tepco, as the utility is known, also plans to use Dai-Ichi's subterranean wells and a groundwater bypass added this year to cut contaminated water volumes, Ono said.
"The ice wall is key but it's not the only solution and it won't solve the entire contaminated water problem," he said.
The ice wall, which will draw enough electricity to power 13,000 Japanese homes, is scheduled to operate until 2020, by which time Tepco plans to seal all the buildings at the Dai-Ichi site, Ryosuke Kobayashi, an official in the company's project planning department, said last week at a media briefing in Tokyo. The period can be extended if needed, he said.
Water Treatment
Meanwhile, the water treatment facility known as ALPS now runs three lines instead of two, processing 750 tons a day, Tepco spokesman Yuichi Nagano said during the site visit. A second facility with a 500-ton daily processing capacity is under construction, he said.
Two of ALPS's three units were taken offline in May after high levels of calcium were found in the water leaving the system. The system's filters and gaskets have also shown deterioration due to radiation exposure.
The conditions at the Dai-Ichi site remain anything but normal. Sprayed with a green paint-like substance to prevent radiation from spreading, many of the buildings ravaged by several hydrogen explosions in March 2011 are supported by metal frames.
Reactor Carcass
The carcass of reactor 4 is topped with a dark grey steel structure that hangs over it like a spider. The add-on frame houses cranes that extract spent fuel assemblies from a pool inside the reactor building. So far, about 1,200 assemblies have been taken out with around 300 left to remove by the end of the year, Ono said.
Between reactor 4 and the ravaged walls of a turbine building, crews of three were working to drill shafts in the soggy ground on the day of the visit. Their work shifts have been cut to three hours because of concerns over radiation and physical exertion, said Tadafumi Asamura, an official from the construction firm Kajima Corp., which was contracted for the ice wall. The job is made all the harder by the rubber torso protectors stuffed with tungsten worn by each worker, on top of several layers of suits, socks and gloves, and a full-face mask.
To avoid extra strain on workers in Japan's hot and humid summer months, drilling the holes for the ice wall will begin at night, Ono said.
After reducing the volume of contaminated water to as close to zero as possible, the next challenge for Tepco will be to clear the debris at the Dai-Ichi site, Ono said. That, and removing melted fuel from the reactor cores, is likely to require new types of robot, which should boost worker morale by showing that even the "backward-looking" task of decommissioning can help produce new technologies, he said.
"It's a matter of laying out the issues, figuring out the priorities and dealing with them according to schedule," Ono said. "If you consider that to be under control, then I think I can say that things are now under control."
Before it's here, it's on the Bloomberg Terminal.
LEARN MORE