AbbVie Nudges Top Shire Shareholders to Push Deal Talks
Drew Armstrong and David Welch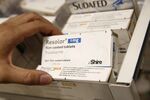 Shire Plc, the drugmaker targeted by AbbVie Inc. in a $51.5 billion takeover offer, is hearing from top shareholders pushing the company to come to the table and work out a deal. Urging them behind the scenes is AbbVie.
The campaign, which includes letters, telephone calls and meetings with Shire's Chairwoman Susan Kilsby, is being encouraged by AbbVie and its advisers as a way to push Shire into serious talks over the U.S.-based company's recent bid of 30.1 billion pounds ($51.5 billion) in cash and stock, said three people familiar with the matter who asked not to be named.
Buying Shire allows North Chicago, Illinois-based AbbVie to move its legal address to the U.K., dropping its tax rate to 13 percent from about 22 percent. Since May, when AbbVie made the first of its four offers for the company, Shire's market value has risen by one-third to 27.3 billion pounds. The stock rose 0.8 percent to 46.37 pounds at 8:13 a.m. in London.
"As a substantial shareholder, I think it's now appropriate for the Shire board to engage with AbbVie management and provide due diligence to see if AbbVie can be encouraged to put a larger premium on the table," said Matthew Halbower, CEO of Pentwater Capital Management LP, a Chicago-based investment fund with $3.8 billion in assets under management. He's said he has written a letter to Shire's board.
The companies have a July 18 deadline set by U.K. regulations to work out an agreement. If no deal is approved by then, AbbVie must walk away for as long as six months.
Price of Failure
Failure comes at a price, at least for stockholders. Pfizer Inc., based in New York, this year couldn't draw London-based AstraZeneca Plc to the table in a similar situation, in what would have been the largest deal in drug industry history. AstraZeneca gained about 25 percent after talks between them were reported, then dropped 11 percent when the Pfizer couldn't get AstraZeneca's board to negotiate.
Halbower, the investor, said he supported Shire's board turning down the first three offers, which were worth as much as 27.3 billion pounds. The latest offer, though, should get the two sides talking, he said.
Along with the tax advantages gained by AbbVie, Shire has an array of rare disease treatments and drugs for attention deficit hyperactivity disorder that would give the U.S. drugmaker a wider array of products beyond the arthritis injection Humira, which accounts for more than half of sales.
Financial advisers to AbbVie have encouraged shareholders who want to see a deal to talk to Shire's board and Kilsby, its chairwoman, said two of the people familiar with the matter. AbbVie wants shareholders to get Shire to at least come to the table and negotiate a price, the people said.
Calling Shareholders
AbbVie executives have also called top Shire holders directly. Chief Financial Officer William Chase, for example, spent 30 minutes on the phone with a large Shire investor. That person, who asked not to be named because the discussion was private, later wrote a letter asking Shire to start negotiating.
That matches with what AbbVie Chief Executive Officer Richard Gonzalez has said publicly.
"AbbVie has made a compelling offer to Shire that creates immediate and long-term value to shareholders of both companies," Gonzalez said in a July 8 statement. "We think its shareholders should strongly encourage the Shire board to engage in constructive dialogue with AbbVie." Gonzalez has said that in conversations with Shire's top 20 holders, he believes he has their general support for negotiations.
AbbVie backtracked from that assertion later, issuing a statement saying that it hasn't received written commitments of support from shareholders and, without those, U.K. takeover rules don't allow the company to claim backing from investors.
For now, stockholders are waiting on the Shire board's response to the latest bid.
"We are pleased to see that the board is taking the bid seriously," said Chris Watt, an investment manager at Jupiter Fund Management, which has 32.2 billion pounds under management and owns Shire. "They are not wedded to the idea of remaining independent at all costs, and see the benefit of becoming part of a wider organization if the price and time are right. In my view that is a good approach to take."
Before it's here, it's on the Bloomberg Terminal.
LEARN MORE