Japan's Pachinko Industry Eyes a Big Gamble
Japan's homegrown pastime considers casinos for growth
by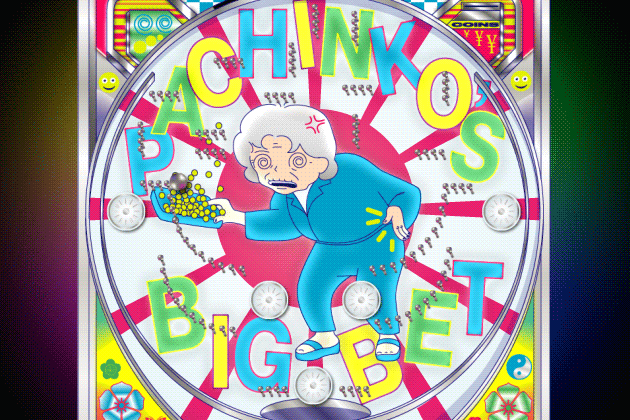 "Welcome!" two young women in shorts and Hawaiian shirts chime over the clatter of pinballs and J-pop at the entrance to Million pachinko parlor in Tokyo's Suginami district. Nearby, garish orange, green, and yellow signs woo visitors with promises of fun within: "All your favorite machines are waiting for you, nice and clean. We lead you to the next level of amusement."
For nearly a century, this is how millions of Japanese office workers, housewives, and retirees have kicked off long, smoky nights out. And their fading-but-still-fervent appetite for the pastime has helped turn pachinko, a pinball-slot machine hybrid that's managed to skirt Japan's gambling ban for decades, into an industry with 19 trillion yen ($187 billion) in annual bets—bigger than the economy of New Zealand.
But limits on big pachinko payouts, an aging player base, and time have taken a toll on Japan's indigenous form of wagering. Attendance at parlors has sunk more than 60 percent since the mid-1990s, and pachinko operators have been unable to raise capital through public stock offerings on Japanese securities markets because of the game's murky legal status. So the industry is looking to an unlikely savior to stem the slide: casinos.
With the 2020 Tokyo Olympics promising to attract millions of cash-toting foreign tourists and governments hungry for the greater tax revenue that legal gaming could bring, Japanese lawmakers in December took up a bill to legalize casinos in the world's third-largest economy. Prime Minister Shinzo Abe said in June that his ruling party would seek to pass the bill in the fall. If approved, Japanese casinos could log an estimated $40 billion in revenue annually as early as 2025, forecasts brokerage CLSA, making it Asia's second-biggest gaming market after Macau.
The chance to grab a piece of that growing market is tempting big parlor operators and pachinko machine makers such as Dynam Japan Holdings and Sega Sammy Holdings to embrace a change that threatens their long dominance of Japan's traditional gaming market. Some smaller pachinko operators seek the social legitimacy that's likely to come with any gambling legislation, making it easier to recruit employees. "Pachinko companies are feeling a sense of crisis that they will go into decline unless they do something," says Daigo Fukunaga, a senior analyst at Advanced Research Japan.


Pachinko companies argue that their deep roots in the Japanese gaming industry make them ideal collaborators for global casino companies, such as MGM Resorts International and Wynn Resorts, that may need local partners to help them break into the market.
The potential benefits are most obvious for pachinko machine makers such as Sega Sammy. Best known outside Japan for its discontinued video game consoles, the company gets almost half its $3.7 billion annual sales from pachinko machines. In May it said it would begin making electronic table games for Macau and Singapore casinos.
Konami, whose products include pachinko machines and video games, already makes slot machines and other gaming equipment for Las Vegas Sands and MGM Resorts in other countries. The company says it may strike equipment deals with clients including both casino giants, as well as Caesars Entertainment. Satoshi Sakamoto, chief executive officer of Konami's gaming unit, said in May that Japanese casinos "could be a turning point" for the company.
Dynam, Japan's second-largest pachinko operator, may sell additional shares to fund its entry into the casino market, Chairman Yoji Sato said in March. And Maruhan, Japan's biggest pachinko operator, is also interested in running casinos, according to people familiar with the company's plans who were not authorized to disclose them and declined to be named.
There are 11,000 pachinko parlors across Japan. Players often sit for hours, plunking down up to 4 yen (4¢) for each metal ball. Although there is some skill involved in determining the amount of force to use when shooting the balls, pachinko is mostly a game of chance. The balls beget more balls, which beget prizes such as a Hello Kitty bread maker or a Nikon Coolpix digital camera. Instead of the physical prize, winners can get tokens that can be redeemed at a shop next door for money, avoiding laws that bar cash payments. That Coolpix camera would fetch about $100 at the exchange.
Japan prohibits gambling except for state-run options such as horse and boat racing. Pachinko has been allowed to operate in a legal gray area because operators rely on these third-party shops to exchange prizes for cash. The National Police Agency, which oversees the pachinko industry, has described the system as "not immediately illegal" without endorsing it.
The legal ambiguity is why Tokyo-based parlor owner P Ark Holdings' 2005 application to list on the Jasdaq Securities Exchange was rejected and why Dynam went to Hong Kong in 2012 for the first public offering by a pachinko operator. A national gaming law could change all that. "If casinos are legal, saying no to pachinko doesn't make sense," Advanced Research's Fukunaga says.
The game's reputation had long been sullied by concerns that pachinko feeds gambling addictions that were exacerbated by machines offering high payouts. Under public pressure, the industry in 1996 voluntarily removed machines that paid out lavish amounts. Regulators further crimped jackpots in 2004, when winnings could reach $10,000 per day. Without big payouts, today pachinko offers few thrills a smartphone can't match.
The change signaled an end of the seven decades of growth for pachinko, which saw bets peak at 31 trillion yen in 1995, according to the Japan Productivity Center, a think tank. At that time 29 million people played the game, about a quarter of all Japanese.
Motoyuki Nakajima, executive managing director at the Pachinko Chain Store Association, says he welcomes an end to the gambling ban. "We have to change our environment, which people think is dirty, smoky, and noisy," he says. "With casinos, we will be able to change."
In February a group of lawmakers proposed legislation to supplement a scheduled corporate tax cut by imposing a 1 percent tax on pachinko winnings. This would generate 200 billion yen of tax revenue, but parlor operators want legitimacy in return. Two of the five major industry groups so far support the move, Nakajima says. "If the cashing issue is cleared, it makes it possible for pachinko parlors to get listed," he says. "There are 10 to 20 companies wanting to do [an] IPO, and they are all preparing."
Some pachinko operators are hesitant to embrace casinos. Masato Kishino, president of Towa Sangyo, which operates 26 pachinko parlors around Tokyo, says casinos could speed pachinko's decline. "I can't think of any positive factor" for the industry if casinos are legalized, he says. "We don't have stores nationwide like Dynam or Maruhan. We will have to find a way to survive in this war."
Even big pachinko players may not fare well. Dynam spokesman Kazuyuki Sugiyama says the company's typical parlor requires about $4.4 million for the initial investment, without the pachinko machines. But casino companies such as Sands and MGM say they're ready to spend as much as $10 billion to build a single casino resort in Japan. That's one reason Caesars Chairman Gary Loveman isn't keen on forming a partnership with pachinko parlors. "I think it's a less likely fit for us, because it's not clear what the complementary set of skills would be in their case," he says.
Before it's here, it's on the Bloomberg Terminal.
LEARN MORE