Who Should Pay the Bill for Wonder Drugs?
Patients are caught in a fight between insurers and Big Pharma
By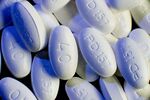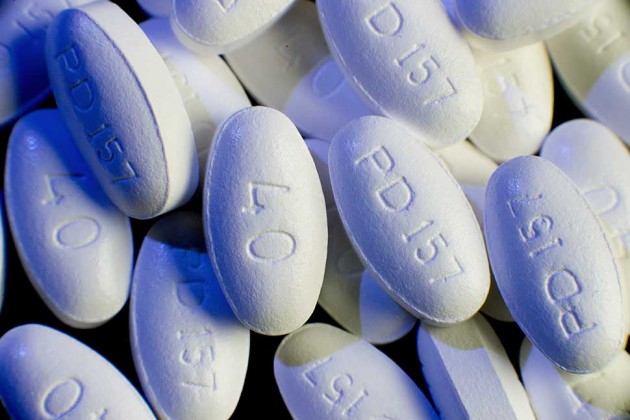 In 2010 the first oral medication for multiple sclerosis became available, a pill from Novartis called Gilenya. At about $4,000 a month, it was the most expensive treatment for MS. Now it's the cheapest. "When it came on the market all the older drugs raised their prices," says Ted Thompson, vice president of federal government relations at the National Multiple Sclerosis Society.
Breakthrough medications that cost tens of thousands of dollars or more a year are becoming common for treating chronic conditions such as MS, cancer, HIV, and hepatitis C. In coming years dozens of new specialized medicines are expected to arrive with similar price tags. The U.S. health-care system has yet to sort out who will pay for them, and how much. It's a question that's pitting drug companies that develop medicines against the insurance companies and government programs that buy them—and leaving patients caught in the middle.
The blockbuster drugs of previous decades were aimed at diseases affecting tens of millions of people. One in 10 U.S. adults under 65 takes cholesterol medication such as Pfizer's Lipitor, introduced in 1996. Today, "biopharma companies are targeting more complex diseases affecting very small populations," says Robert Zirkelbach, spokesman for the trade group Pharmaceutical Research & Manufacturers of America. Of the 27 drugs approved by the U.S. Food & Drug Administration last year, 19 were specialty medications, including nine cancer treatments, according to PricewaterhouseCoopers Health Research Institute. Selling expensive-to-develop pills to fewer people means each dose will cost more. The institute projects that by 2016 spending on such treatments will more than double from 2012, to $192 billion.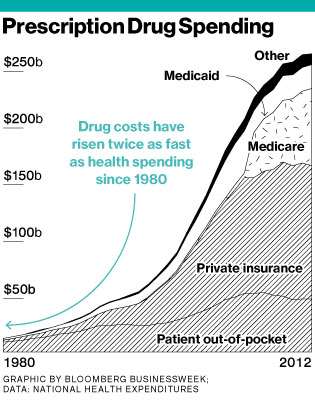 U.S. taxpayers have a lot at stake. Although the government pays 37 percent of America's $263 billion prescription drug bill through programs such as Medicaid, Medicare, and military and veterans' health care, Washington's buying power doesn't always translate into the lowest prices. By law, drugmakers must sell prescription medications to the military and to Medicaid, the state-federal health program for the poor, at prices below the retail average. The percentage discount, based on a drug's average sale price, is set by a complex formula. But when Medicare's prescription benefit for the elderly was created in 2003, the pharma industry successfully lobbied to prevent the program from negotiating similar discounts, arguing that competition among the private insurers that administer Medicare's drug plan would hold down prices.
That didn't work: Medicare pays on average 69 percent more than Medicaid for brand-name drugs, according to a June U.S. Government Accountability Office report. Even if Medicare could bargain with drug companies, it might not make much difference. Earlier GAO research found that when Medicaid's pharmaceutical discounts were created in the 1990s, drugmakers responded by raising retail prices—diminishing the effect of the discount and raising costs for other buyers.
Since the late 1990s prescription drugs have consistently made up about 10 percent of America's total medical bill. The amount individuals pay has changed, though. Half a century ago patients covered more than 90 percent of medication costs. As recently as 1991, Americans still bore more than half of drug costs directly. By 2012, they paid just 18 percent. Private insurers and Medicare picked up a greater share as treatments became more sophisticated and expensive.
Insurers have been trying to shift more of those costs back onto patients, saying people who have to pay part of their way will use services more prudently. A recent analysis of 123 Obamacare drug plans found more than half had at least one class of medicines that required patients to pay 30 percent of the cost, including for generics. The report, by consultant Avalere Health, was funded by the pharmaceutical industry. Charging a percentage of drug costs, rather than a flat co-pay, means patients with chronic conditions can pay thousands of dollars more than healthy people on the same insurance plan. "The specialty drugs are typically on the highest tier with the highest cost-sharing," says Thompson of the MS Society.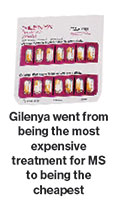 The Affordable Care Act limits the total amount people have to pay out of pocket each year to $6,350 for individuals or $12,700 for families. Most people never have to shell out that much. But a patient with MS—or HIV, or cancer—might hit that ceiling in the first few months of the year paying 30 percent or 40 percent of drug costs, as some plans require.
Advocates for patients argue that insurers design health plans with high fees on specialty drugs to steer sick people away, an end run around Obamacare's ban on discriminating against those with preexisting conditions. The nonprofit AIDS Institute filed a complaint with the government on May 29, arguing that four insurers in Florida were discriminating against patients by putting all HIV drugs into the highest cost tier. The bigger problem, insurers say, is the high cost of medicines: "You can't keep increasing prices at this level and have a system that's sustainable," says Brendan Buck, spokesman for America's Health Insurance Plans, the industry lobby. As advances in medical science make their way from lab benches to pharmacy counters, paying for cures may become as vexing a problem as finding them.
BOTTOM LINE -
The bottom line: Some insurers require sick patients to pay extra for expensive breakthrough drugs to treat chronic diseases.
Before it's here, it's on the Bloomberg Terminal.
LEARN MORE