Indonesia Ore Ban to Remain Should Widodo Win Poll
Jake Lloyd-Smith and Yoga Rusmana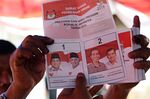 Indonesia's ban on ore exports will probably remain in place and speculation that the curb may be relaxed if Joko Widodo becomes the country's next president is misplaced, said Australia & New Zealand Banking Group Ltd.
Nickel fell as much as 2 percent in London yesterday as unofficial counts showed Jakarta Governor Widodo won the most votes in the world's third-biggest democracy, putting him ahead of Suharto-era general Prabowo Subianto. While the market perceives Widodo's market-friendly policies as an indication that the ban will be lifted or at least watered down, that's unlikely, analysts including Mark Pervan wrote in a note.
The ban in the biggest mined nickel producer, which was implemented in January to induce investment in processing plants, spurred forecasts for global shortages of the metal used in stainless steel. Nickel rallied in May to the highest level since 2012, and outperformed all other base metals this year. Widodo, who's known as Jokowi, would probably relax the ore ban, Mike Dragosits, senior commodity strategist at TD Securities in Toronto, said yesterday as prices retreated.
That decision is unlikely "given the upside to revenue is substantial, and the fact that the policy has been in place for six months already and appears to be encouraging investment in processing facilities," Pervan said.
Nickel for delivery in three months, which tumbled 1.3 percent to end at $19,525 a metric ton on the London Metal Exchange yesterday, pared losses today. The metal, which fell as much as 1 percent to $19,330 a ton, was 0.3 percent lower at $19,475 at 8:13 a.m. in London. The price peaked this year at $21,625 on May 13 and is 40 percent higher in 2014.
Largest Economy
Both Jokowi and Prabowo claimed victory in the contest to lead Southeast Asia's largest economy. Jokowi, had about a five percentage point lead, according to unofficial counts from two survey companies that declared him the winner. The rupiah surged to a seven-week high as the currency market reopened today and the Jakarta Composite Index rose to the highest since May 2013.
Jokowi would keep the ore export ban, Jusuf Kalla, his vice presidential candidate, said during the campaign. A Widodo government would seek to boost exports of processed minerals rather than raw ores, according to a party policy document.
"They will likely support the ore export ban, if the supporting infrastructure is established," Fauzi Ichsan, a finance adviser to Jokowi's party, said by phone today, citing power supplies and transport. The focus at present was on ensuring that a win for Jokowi-Kalla was declared legally by the election commission, he said.
Official Results
Before the Jakarta-based commission can release official results by July 22, it must tally the ballots from the millions of eligible voters who turned out. While counting at local booths is done publicly -- those figures form the basis of the quick counts -- adding the results up is done in secret.
Indonesia's ban is fostering more processing. Morgan Stanley said in a report this week that local output of nickel pig iron will rise from about 1,000 tons this year to 46,000 tons in 2015 and 154,000 tons by 2017. Before the curb was imposed, most unprocessed nickel ore was shipped to China. The bank predicts a shift to global nickel deficits from next year.
Stockpiles of metal held in LME-registered warehouses expanded to a record this year, surging 7.2 percent last month to post the biggest monthly increase since July last year. The holdings climbed 0.5 percent to 306,828 tons yesterday.
"Nickel was reacting to yesterday's jump in LME stockpiles to a record," said Chae Un Soo, a metals trader at Korea Exchange Bank Futures Co. in Seoul. "Indonesia's election results will not affect the market much as few people expect the country's new president to ease the current ore export ban."
Mining Layoffs
Indonesia's $878 billion economy, which also produces copper and bauxite, grew 5.21 percent in the first quarter from a year earlier, the weakest pace since 2009, as the ore ban spurred mining layoffs across the archipelago. Economic activity is expected to pick up as election uncertainty gets removed, according Andrew Swan, head of Asian equities at BlackRock Inc.
"Everything will be evaluated comprehensively before deciding anything, but in principle we will support downstream industry as mandated by the law," Iman Sugema, a member of the economic team of the Jokowi-Kalla camp, said by phone. "The market is free to speculate but we better wait until we really win. We're not in the government yet."
Before it's here, it's on the Bloomberg Terminal.
LEARN MORE