Ukraine's Top Oligarch Walks a Fine Line
Rinat Akhmetov defies the rebels, but Kiev questions his loyalty
By and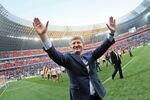 Each day at noon, hundreds of thousands of factory workers in Ukraine's east pause as sirens blare for three minutes, an act meant to signal defiance against pro-Russian militias. The workers' boss, Rinat Akhmetov, wants to restore unity to Ukraine and preserve the fortune that makes him Ukraine's richest man.
The daily siren and the hefty raises at his metal and power plants and coal mines are just two of the ways the billionaire is rallying support in the Donbas region for the national government. The Donbas, Ukraine's industrial and coal mining region in the east, is where most of Akhmetov's workers live. Many of his 300,000 employees backed the revolt when the fighting started. Not anymore, say company officials. "Now 99 percent of the workforce understands the events that are happening and supports the principle that Donbas is part of Ukraine," says Enver Tskitishvili, who runs a steel mill for Metinvest, the steelmaker at the core of Akhmetov's empire.
Akhmetov, worth $13.2 billion according to the Bloomberg Billionaires Index, supported Kremlin-backed President Viktor Yanukovych until the politician fled in February and protesters in Kiev toppled his government. When separatists in the Donbas first clashed with the Ukrainian Army, Akhmetov, 47, sat on the sidelines as they seized buildings and claimed autonomy. Then in May he came out against the uprising and vowed to help end it. It's been a good call so far. The Ukrainian Army has ousted the militias from their stronghold in Slovyansk and has advanced on Donetsk. In a televised interview, Akhmetov urged the government not to bomb the city. Ukrainian President Petro Poroshenko's spokesman, Svyatoslav Tsegolko, declined to comment on Akhmetov's role in the conflict.
Akhmetov's 100-plus companies include steel mills, coal mines, chemical plants, and power stations as well as a soccer club , banks, insurance companies, and media outlets. Together they generated $23.5 billion in revenue in 2012, according to the website of his holding company SCM Holdings. Results for 2013 have not been reported.
Both the pro-Kiev and pro-Russia camps have heaped criticism on Akhmetov. "His TV stations and newspapers are working against us," says Andrei Purgin, deputy premier of the self-declared Donetsk People's Republic. Akhmetov waited too long to declare his loyalty to the new government in Kiev, says Yuriy Yakymenko, head of political studies at the Razumkov Center research group in Kiev. If this resistance against the rebels "in the Donbas had started sooner, we could have avoided huge human losses," he says. "For that we would have needed those who have influence in the Donbas to use it." The billionaire didn't respond to questions e-mailed to SCM.
Akhmetov got his start buying coal from Ukraine's many mines and selling it to factories, power plants, and steel mills. His partner was local businessman Akhat Bragin, who in the early 1990s was accused by police in Donetsk of being a crime boss. Bragin denied the allegation and in 1995 was killed in an explosion at his soccer club's stadium. Akhmetov took charge and now owns the team.
After Yanukovych became president in 2010, in a campaign Akhmetov helped fund, the billionaire's power business won five government auctions for some of Ukraine's biggest power generators and distributors, two as the sole bidder, all for about $600 million.
To gain the confidence of his workers—and keep them from joining the separatists—Akhmetov has raised pay by about 20 percent. He also offered bonuses of $25 a day to employees in conflict zones who patrol the streets with local police loyal to Kiev. Those incentives have paid off in Mariupol, a city of 500,000 on the Sea of Azov that was recaptured by government forces on June 13. Lawlessness spread after an earlier government offensive failed on May 9, prompting Metinvest, Mariupol's largest employer, to call on its steelworkers and the people of the city to help secure the streets. More than 33,000 people signed up to join unarmed patrols alongside police officers in one week alone, according to company officials.
Now through factory floor meetings, e-mails, and in-house publications, managers make sure every employee is educated on the dangers of separatism, says Dmitry Cherkez, a deputy department head at Ilyich, one of Metinvest's two steel mills in Mariupol. "We say to people: 'Don't read the Internet too often, don't pay much attention to what people say on the bus,' " he says. Some workers say they're unimpressed. Yevgeny Nikolaenko, an engineer at Akhmetov's Azovstal, a Metinvest steel mill, says while the patrols helped restore order in Mariupol, he's neutral. "I don't support one side or the other," he says. "This is all about geopolitics."
Some of the steelmaker's managers have had to fend off militias to prevent them from forcibly enlisting factory workers, says Yuriy Ryzhenkov, Metinvest's chief executive officer. "They come and say, 'Give us your people to fight,' " he says. "We explain that if that happens, production will stop, something that didn't even happen during the Great Patriotic War," referring to World War II. He adds, "We hope this will come to an end tomorrow, but we are trying to make sure that even if it continues for several years, we can keep the company's operations together."
BOTTOM LINE -
The bottom line: Akhmetov's factory workers have been given 20 percent pay raises to boost their morale and secure their loyalty.
Before it's here, it's on the Bloomberg Terminal.
LEARN MORE