HIV Patients Accuse Health Plans of Using Drug Costs to Discriminate
By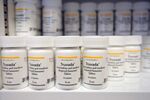 Before the Affordable Care Act, insurance companies could refuse to cover people with HIV or other costly conditions. Obamacare was supposed to end that by making insurers sell policies to all comers, regardless of preexisting conditions. Now advocates for HIV patients and others with chronic diseases say some health plans are making them bear a huge cost for life-saving medications—and that the strategy's a backdoor method of discriminating against sick people.
The nonprofit AIDS Institute filed a formal complaint (pdf) with the federal government May 29 over how four insurance companies structured their drug coverage in Florida's Obamacare exchange. "We found this pattern where every single [HIV/AIDS] drug for some plans was on the highest tier, including generics," says Carl Schmid, the institute's deputy executive director. Other plans cover the same drugs with a flat $25 co-pay. The group is asking the Health and Human Services Department's Office of Civil Rights to review the plans and force the insurers to lower patient costs for HIV drugs.
It's not just a handful of companies. A recent analysis (pdf) of 123 Obamacare plan formularies—the list of drugs an insurer will pay for—found that more than half had at least one class of medicines that required patients to pay 30 percent of the cost for all drugs in the category, generics included. People with multiple sclerosis, HIV, certain cancers, and bipolar disorder were most often asked to pay a big chunk of the price of medication, according to the report by consultant Avalere Health and funded by the pharmaceutical industry.
Antiretroviral drugs in recent years have enabled many of the 1.15 million Americans with HIV to live normal lives with a diagnosis that was once a death sentence. Those therapies aren't cheap. Paying 40 percent or 50 percent of the retail price could cost patients more than $1,000 a month. All Obamacare plans have out-of-pocket limits that cap patients' drug spending this year at $6,350, or $12,700 for families, so insurers would eventually take over.
Doctors say a lot of people can't afford to pay until they reach that limit. Dr. Jose Lares-Guia, a Manhattan solo practitioner who has a large HIV practice, says some of his patients are maxing out their credit cards or going without medication. Others are traveling to Canada, Mexico, or the U.K. seeking cheaper drugs. He's taking meetings with pharma company sales reps for the first time in his life just to get access to coupons or other discounts for his patients. Insurance companies are "making the plans for people with HIV absolutely unattractive so they don't choose them," he says.
Insurers and pharma companies are at a standoff over drug prices. The insurance industry blames drug manufacturers for rising costs and a lack of transparency into how prices are set. Drug companies say their prices reflect the value that the medications provide, and insurers are being short-sighted when they make patients pay more for medicines that could prevent costly hospitalizations later on.
The four companies named in the Florida complaint—Aetna subsidiary CoventryOne, Humana, Cigna, and Preferred Medical—say their plans conform to federal guidelines. Spokespeople for Humana and Preferred Medical point out that the plan design doesn't single out HIV patients—drugs for other chronic conditions, such as cancer, multiple sclerosis, and hepatitis C are also covered in high-cost sharing tiers.
Health plans must be approved by state insurance regulators. But it can be difficult to detect ahead of time if a plan design discriminates against patients with a particular condition, says Sally McCarty, a former Indiana insurance commissioner and now a researcher at the Georgetown Health Policy Institute. "If an insurance company was so inclined, it would be very easy to design plans to discriminate," she says.
HHS declined to comment on the Florida complaint. The federal government may be keeping a closer eye on Obamacare plans next year. The Centers for Medicare and Medicaid services "intends to review plans that are outliers based on an unusually large number of drugs subject to prior authorization" or other restrictions, the agency said in a guidance (pdf) issued in March.
Schmid, of the AIDS Institute, fears that more plans will push the cost of medications on to patients if the government doesn't step in. "If there's no enforcement now, what are the good plans going to look like in 2015? Maybe the good plans will look to do this next year," he says.
Before it's here, it's on the Bloomberg Terminal.
LEARN MORE