Flipkart Fights to Keep India E-Commerce Lead Over Amazon
The company found a way to do online business in cash
by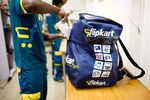 In 2007, when Indian software engineers Sachin Bansal and Binny Bansal were starting their online bookstore Flipkart.com out of a two-bedroom apartment, they faced a challenge Amazon.com founder Jeff Bezos never had: how to collect payment. At first the two, who aren't related, accepted credit cards, but because few Indians use them, they needed a way to conduct e-commerce in cash. Payment-on-delivery was the obvious solution, but Flipkart didn't want third-party couriers to carry large quantities of its money. So in 2010 the company decided to remake itself as a version of both Amazon and United Parcel Service.
Becoming a delivery service brought a slew of infrastructure problems. India has no standardized street address system, and road conditions are rough. Often a building name, street, and series of landmarks are needed to locate a house. And customers have to be home to receive a package. "You cannot leave anything outside the door, because it will just disappear," says Ashok Banerjee, Flipkart's former vice president for logistics, now chief technology officer for e-business at Symantec in California.
The entrepreneurs looked at distribution as a technology problem. "The advantage we had was we were not a logistics company trying to do e-commerce," says Mekin Maheshwari, head of human resources. "Because we were creating the systems completely in-house, we could actually solve it." With venture funding from Tiger Global Management, Flipkart's engineers developed systems to determine the best warehouse locations; it has six across the country. It alerts customers by text several hours before a scheduled delivery and has a lab dedicated to improving the final stage of deliveries, from local warehouses to buyers.
The market leader, Flipkart delivers 5 million shipments monthly—books, electronics, makeup, and clothing—to 18 million registered users in 150 cities, and its cash-on-delivery model made e-commerce more viable in India. "Flipkart really changed the rules of the game," says Pragya Singh, associate vice president at consulting firm Technopak Advisors, who estimates that India's $3 billion e-commerce market will reach more than $19 billion in five years. India has one of the youngest online populations, and its smartphone adoption is growing faster than China's. And because e-commerce totals less than 1 percent of retail spending, "There's room for a lot of us to grow," says Sandeep Komaravelly, senior vice president for marketing at Snapdeal.com, a Flipkart competitor backed by EBay.
The market has proven irresistible to Amazon, which a year ago launched its own Indian site. Although laws prevent foreign retailers from selling products in India, Amazon can serve as a marketplace for local merchants and deliver their goods. Amazon India adopted cash-on-delivery from the get-go and introduced one-day delivery in December. Flipkart has countered with its own one-day delivery and a loyalty program similar to Amazon Prime and says it's also shifted away from selling its own inventory in favor of acting as a marketplace for others.
Flipkart says it sold more than $83 million in merchandise in March, putting it at an annualized $1 billion sales rate. Snapdeal says it's close to those numbers; Amazon wouldn't comment for this story, but Technopak's chairman, Arvind Singhal, says Amazon India will reach that level by the end of next year, if it hasn't already.
Despite the market's growth potential, Amazon has a good chance to overtake Flipkart on its home turf, says Mahesh Murthy, a managing partner at Seedfund, a venture capital firm in Mumbai. "I believe that one viable business will dominate the niche. However, it increasingly appears that Flipkart may not be that company," he says. Amazon, he notes, "has come to within striking distance of Flipkart … and it continues to have deep pockets, and it's a patient player."
Before it's here, it's on the Bloomberg Terminal.
LEARN MORE