China's Communist Party Admits It Has a Big Corruption Problem
By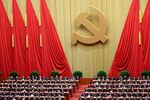 Here comes a perhaps less-than-surprising conclusion from China's Communist Party: When it comes to choosing and promoting its nearly 87 million members, it doesn't do a very good job, the CCP's organization department has admitted.
Nepotism and corruption are commonplace and meritocracy often absent when selecting cadres, concludes a survey published in the People's Daily on July 6. More than 3,000 local cadres in 16 provinces responded to the survey questionnaires distributed by the party department responsible for personnel.
The investigation showed that, when multiple candidates vie for a spot, top party leaders use their influence to ensure those they favor win promotion. Buying and selling positions in the party is also commonplace, the survey noted.
"All this corrupt and unfair behavior that the study cited has existed in the selection and appointment of officials for decades," said Professor Cai Lihui, a political analyst at Guangzhou's Sun Yat-sen University, reported the South China Morning Post on July 7. "It's the result of a lack of checks and balances in China's government. No one can limit the power of the officials and the party."
In the run up to the 93rd anniversary of the party on July 1, the party organization department called for putting a new emphasis on quality over quantity in selecting members and expelled four "tigers," or high-ranking officials, for corruption. In the first five months of this year, Chinese authorities investigated 26,523 officials, including seven at the ministerial level, for crimes related to their job duties, reported the official Xinhua News Agency on July 3.
"Winning or losing public support is an issue that concerns the CPC's survival or extinction," Chinese President and Party General Secretary Xi Jinping warned in June of last year, according to Xinhua.
While it may seem a no-brainer that China's notoriously corrupt one-party political system doesn't do a good job in self-selection, the survey's gloomy results may still surprise those who have made a name for themselves, by praising China's political system as superior to Western democracy.
"Beijing will be able to meet the country's ills with dynamism and resilience, thanks to the CCP's adaptability, system of meritocracy, and legitimacy with the Chinese people," wrote venture capitalist Eric X. Li in Foreign Affairs early last year, in a typical commentary. "The country's leaders will consolidate the one-party model and, in the process, challenge the West's conventional wisdom about political development and the inevitable march toward electoral democracy," he continued.
The party's admission of its own serious flaws must be a little depressing for maximum bullish China cheerleaders, such as Li.
Before it's here, it's on the Bloomberg Terminal.
LEARN MORE