Brazil's World Cup Loss May Yet Be Dilma's Gain
Rousseff may win a second term despite inflation and weak growth
By and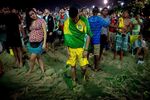 Brazil's battered psyche was evident in scenes of crying fans and players after the country's worst World Cup defeat. Some in the stands vented their frustration by cursing President Dilma Rousseff, whose government footed a good chunk of the tournament's $11 billion cost. Rousseff, who's seeking a second term in October, can at least boast that the event came off without a hitch, contrary to what many expected. "People will be in a bad mood for a few days, but the Cup won't decide the elections," says João Augusto de Castro Neves, an analyst with Eurasia Group, a political consulting firm that gives Rousseff a 70 percent chance of winning.
The big challenge for Rousseff will be mending the world's seventh-largest economy, which is growing at the slowest rate under any president in more than two decades. That's in part a result of investors' distaste for her administration's policies. Business confidence has fallen to the lowest level in more than a decade. And among the seven largest Latin American economies, Brazil ranks last in fixed investment, at about 18 percent of gross domestic product. Growth forecasts for 2014 have been cut in half from the start of the year, to just over 1 percent. "Brazil is flirting with recession," says Nicholas Spiro, managing director at Spiro Sovereign Strategy, a London-based investment consulting firm, and without political consensus about policy it "will bump along the bottom for a long time."
In most countries, the one benefit of a slack economy is that it helps keep a lid on prices. Not in Brazil, where annual inflation in June broke through the 6.5 percent upper ceiling of the central bank's target. It would be almost 8 percent if it weren't for government policies restraining prices for gasoline, electricity, and public transportation, says Alberto Ramos, Goldman Sachs Group's chief Latin America economist. At the same time, high interest rates are doing a better job of stifling consumer demand than damping inflation.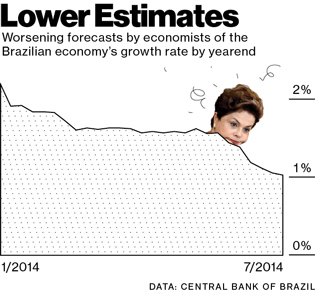 Despite all this, Rousseff commands a sizable lead over rivals. Her electoral support jumped four percentage points, to 38 percent, following three straight drops this year, according to a Datafolha poll in July, indicating that even Brazilians who had questioned the costs of staging the Cup gave her credit for it. The poll showed support for her main challenger, Aécio Neves, at 20 percent, up one point from June. "The biggest legacy of this Cup is renewing the confidence of the Brazilian people in the country and its capacity," wrote Rousseff in a July 7 question-and-answer Facebook session.
Brazil's president can still count on the backing of low-income voters, surveys show. Roughly 50 million Brazilians, or a quarter of the population, receive benefits through Bolsa Família, the federal antipoverty program. What's more, unemployment remains at near-record lows, in part because more youth are opting for postsecondary training than in the past. If reelected, Rousseff has pledged to double the number of low-cost homes built each year to more than 5 million. "I still believe in this government's policies," says José Vicente da Silva, a 53-year-old doorman. "They're directed at the country's most needy. That's why I'm going to vote for her."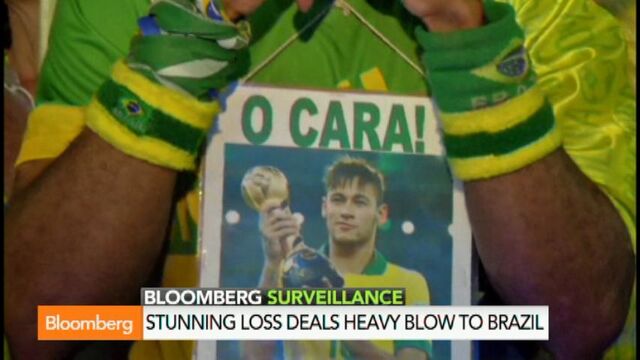 Rousseff has tried to rev up growth with payroll and sales tax cuts and by boosting lending by state banks. The loose fiscal policy helped trigger a sovereign debt downgrade in March, the first in more than a decade. Her administration also has pressured utilities to accept lower electricity rates and capped fuel prices, causing revenue shortfalls at the state-run oil company, Petrobras. Many investors say these policies have fueled mistrust. "The government doesn't comply with any of its guidance, intervenes heavily in the economy, and often doesn't abide by the rules of the game," says Klaus Spielkamp, the head of fixed income at Bulltick Securities in Miami.
The same discontent over public services, inflation, and graft that triggered protests last year hasn't gone away and may douse any positive effect from the World Cup, according to José Luciano Dias, directing partner of CAC Consultoria Politica, a consulting firm in Brasilia. "The day-to-day concerns about education, health, everything involved in social well-being are much more important than the games," says Adenir Freixo, a resident of Rio de Janeiro. "We can't forget the problems we have."First graph has been changed to reflect the fact that the federal government did not pay for the entire cost of the tournament.
BOTTOM LINE -
The bottom line: Brazil's low-income voters are likely to buoy President Rousseff's reelection chances in October.
Before it's here, it's on the Bloomberg Terminal.
LEARN MORE