Australia Unemployment Returns to 11-Year High; Bond Yields Drop
Benjamin Purvis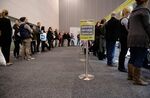 Australia's jobless rate returned to match the highest in a decade as employers cut full-time payrolls and more people sought work in June, underscoring the likelihood interest rates will remain at a record low.
The unemployment rate rose to 6 percent from a revised 5.9 percent, the statistics bureau said in Sydney today, matching the highest since July 2003. The number of people employed rose by 15,900. That compares with the median estimate for a 12,000 increase in a Bloomberg News survey of 26 economists.
Bond yields dropped and the local dollar weakened after the report suggested the economy's momentum has slowed. The Reserve Bank of Australia has this year flagged a period of rates stability after reducing the benchmark to 2.5 percent to avoid a growth gap emerging amid waning mining investment.
"June employment data are a mixed bag," said Katrina Ell, an economist at Moody's Analytics in Sydney. "Looking through the monthly noise, Australia's labor market is very gradually healing but employment growth remains below trend."
The number of full-time jobs fell by 3,800 in June, and part-time employment rose by 19,700, today's report showed. Australia's participation rate, a measure of the labor force in proportion to the population, climbed to 64.7 percent in June from 64.6 percent a month earlier, it showed.
Australia's 10-year yield fell two basis points to 3.50 percent, the lowest since June 19, 2013. The Australian dollar traded at 94.17 U.S. cents at 11:56 a.m. in Sydney, from 94.34 cents before the data was released.
In a largely unchanged statement accompanying this month's rates decision, RBA Governor Stevens said the nation's elevated currency "is offering less assistance than it might in achieving balanced growth in the economy."
Rate Cut?
Traders are pricing in 9 basis points of declines to the benchmark rate over the next 12 months, according to an index of swaps from Credit Suisse Group AG in Sydney today.
"There has been some improvement in indicators for the labor market in recent months, but it will probably be some time yet before unemployment declines consistently," Stevens said July 1. "Overall, the bank still expects growth to be a little below trend over the year ahead."
Consumer confidence in May fell to its lowest level since August 2011 and has remained subdued since then after the government's budget flagged spending cuts and a new tax on high-income earners.
Loose monetary policy has boosted Australian household spending. Home prices rebounded 1.4 percent in June after slipping 1.9 percent in May, according to RP Data-Rismark's Home Value Index report. Coles supermarkets and Woolworths Ltd. are among companies adding employees.
Economic Transition
Aditya Birla Minerals Ltd. on June 30 said it has sought expressions of interest for voluntary redundancies at its Nifty copper mine in Australia's Great Sandy Desert Region of the East Pilbara as it seeks to reduce staff by up to 109 people.
"There is a bit of pessimism around the Aussie story in part because growth has slowed down a bit," Paul Bloxham, chief Australia economist at HSBC Holdings Plc in Sydney and a former RBA economist said in a Bloomberg Television interview. "That rebalancing from mining growth to growth in the non-mining sectors has not been a perfectly smooth transition, but it is underway."
Before it's here, it's on the Bloomberg Terminal.
LEARN MORE