The Nerd Garage of Your Dreams
With state-of-the-art equipment and courses on 3-D printing and personal prototyping, TechShops could change the face of manufacturing. 
By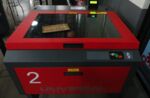 Doug Donegan has been a TechShop member for about a month and a half—more or less ever since one opened in a nearby D.C. suburb. In that time, he's built an Adirondack chair from scratch, using the lab's advanced fabrication machinery and sophisticated design technology. "It took me about 50 hours to do it," he says. "I screwed up a lot."
Donegan is one of about 300 veterans who have found their way to TechShop in Crystal City, Virginia. He says that the space has been a crucial transition point for a lot of veterans. (In fact, the Veterans Administration has partnered with several TechShop spaces to provide memberships for vets.) Donegan describes TechShop as an open space for projects, a place to be creative and to put some of his training to use. 
When I meet him, he's working on a bedside table. "I live in a 1,200-square-foot condo. There's no garage," Donegan says. "Even if I wanted to build something like this at home, I couldn't."

"It's a lot of self-learning," says Isabella Musachio, general manager of the Crystal City location. The eighth and latest TechShop to open, the Crystal City studio is situated in a walkable part of the suburb, sandwiched between two popular locally owned eateries, We the Pizza and Good Stuff. The storefront space looks like it could fit on any city block. Yet at nearly 20,000 square feet, TechShop is deceptively large, with studios for textiles, metalworking, 3-D printing, electronics, design, and more.

You could think of TechShop as a dream garage. You could also think of TechShop as the factory floor of the maker movement. At this point in time, the maker movement itself doesn't need much introduction, even if its implements—like computer numerically controlled (CNC) devices and 3-D printers—still require some unpacking. In June, President Barack Obama gave a talk about the future of manufacturing and innovation at Pittsburgh's TechShop. And he hosted the first-ever White House Maker Faire, where he messed with a 17-foot robot giraffe and a 3-D printer that produced pancakes, among other gizmos.

While the endorsement of the president speaks to the promise of DIY digital manufacturing, for many people, the tools might as well belong to a wizard. People who have access to a 3-D printer—in Washington, D.C., that's actually anyone with a library card—may not have the software training or even a good reason to do much with it.
So the conversation about making, at a national or economic level, is largely concerned with what comes next, once consumers catch up with the technology. And the competition to be there when they get there is fierce. Walmart may be printing its own supplies soon, cutting costs for inventory on things like auto parts or school supplies. For Amazon, 3-D printing will change its services (and its supply chain) every bit as much. Meanwhile, MakerBot seeks to turn 3-D printers into familiar at-home appliances, 21st-century versions of the microwave oven. 
"The barrier for entry for someone to design, create, and manufacture a product that they want is the lowest in human history," says Mark Hatch, CEO of TechShop and author of The Maker Movement Manifesto. He describes the maker movement as the third industrial revolution—or the personal industrial revolution—and he's quick to describe DIY manufacturing successes that got their start at TechShop. Dodocase, for example: The President's preferred iPad case was made by a company that launched through TechShop. Within 90 days of joining TechShop, Hatch says, the founder of Dodocase, Patrick Buckley, had "sold a million in product."

What differentiates TechShop from other personal manufacturing services—and what makes it so useful for cities—is the emphasis on process, rather than on product. The 3-D printing studio is only one aspect of the services that TechShop offers. (Albeit a popular one, according to Musachio. The only thing that's more popular is the laser cutter. "You can laser-cut toast," she says. "You can laser-cut chocolate.)

"It's really great for people looking to prototype," Musachio says, during our tour of the facility. "You can rent an office, use the space, and grow your business here." The world's fastest electric motorcycle was built, snout to tail, at a TechShop, an example boosters love to highlight. But the services are also designed for folks who want to build a bedside table, or don't necessarily know what they want to do.
TechShop offers both classes and memberships. Users need to take introductory classes before they can pursue specific courses in, say, CNC vinyl cutting. You don't need to be a member to take a class at TechShop, but you do need to be a member to make use of the equipment. So before you can carve through 8 inches of marble with the powerful TechShop waterjet, you'll go through basic safety training.   

At $125 to $175 per month, or $1,395 per year, membership at the D.C. TechShop is pricey. Hatch compares it to a "Frappuccino addiction" in scale. Membership does come with benefits: The workshop is open 9 a.m. to midnight every day of the week, and members can use the loading bay and forklift to transport materials. There's free popcorn and coffee at night. Plus, that waterjet.
It's hard to tell which is the biggest draw for members: access to more than $1 million in equipment, instruction from people who can show you how to use it, or the space to do all these things. For some of the cities where TechShop operates, it might be that last one. The 38,000-square-foot TechShop in Detroit is sponsored in part by Ford, which provides incentives for employees to join and invent stuff—including automobile-scale stuff—through the space. That's not exactly "tinkering."



The instructors are there to teach people how to use the machines, at different skill levels—from light tinkering to full-scale inventing. TechShop also employs "dream consultants," mostly part-time technicians who work on the floor, answering people's questions about projects. (By the numbers: TechShop has 130 full-time employees and 250 part-time employees. The company expects to do $10 million in sales this year and open four new locations, including one in Los Angeles and one in St. Louis. The D.C. location has more than 550 members.)

One dream consultant, Darcy Bender, tells me that TechShop is her dream job: She has a background in architecture, woodworking, and graphic design, and she uses the shop herself to make "full-on, sign-quality signs without having to invest in equipment." Bender helped me to laser-cut the CityLab sign below. The whole process, maybe 20 minutes all told, involved using a software program not much more complicated than Photoshop to capture the design, then hitting start on the laser to cut a few different logos on plywood.
"It's the same logic as an ink-jet printer," Bender tells me, explaining how the software converts a raster image into instructions for the laser. "But instead of dropping droplets of ink, it's dropping droplets of heat."

If I sound bullish on TechShop, it's because something that Donegan said rings true to me: TechShop is the garage that I'll never have (and never knew I wanted). And while I don't need to vacuum-form a thingy that I designed and injection-molded myself—for about $50 in parts—there is a space in this city and others where that can happen. It's the concentration and communalization of equipment and services, and the prospect that these services could become even more localized and accessible as amenities, that marks TechShop as the future for cities.