Short-Sale Superhero 'Garbage Man' Takes Out Market Trash
Michael P. Regan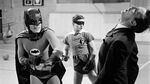 Maybe we've been wrong about short sellers all along.
It's easy to paint the whole group as a bunch of villains when their campaigns send share prices tumbling. But that's not how Daniel Yu of Gotham City Research LLC sees it. He named his firm after the city watched over by the comic-book hero Batman and told Bloomberg News that he, like the Caped Crusader himself, is driven by the desire to "show people that the world doesn't belong to seemingly untouchable wrong-doers."
Yu's short of Spanish wifi provider Let's Gowex SA reached a dramatic climax this weekend when the company filed for insolvency and its chief executive officer fessed up to reporting false financial results. Pow! Bam! Biff!
If you accept the notion that short sellers often sniff out frauds that will eventually lead to even bigger losses for investors, it's easy to make the case they are doing shareholders a favor in the long run. And it's easy to imagine an entire Justice League of shorts presiding over the market. So it begs the question: What superhero logos do other well-known shorts wear on their chests beneath those stuffy, starched shirts?
Believe it or not, it's not the first time Carson Block has been asked the question. You may remember the founder of Muddy Waters LLC from some recent comic-book-like market plotlines, including one that ended with Sino-Forest Corp. in bankruptcy.
Garbage Men
"A Chinese reporter once asked me a similar question," he wrote in an e-mail yesterday. "My response was, and is, that I view us (Muddy Waters) more as garbage men -- taking out the trash of the financial markets. Maybe with a big garbage can emblem emblazoned on our chests."
Alas, not all shorts are as willing to reveal their hidden identities as Garbage Man is. Like the hapless citizens of Gotham, that leaves us only to speculate on their true identities based on the clues left for us:
•David Einhorn. This one's pretty easy, actually. The name of the firm, Greenlight Capital Inc., says it all. As Dealbreaker has been saying for years, the short who took on Lehman Brothers Holdings Inc., Allied Capital Corp. and, most recently, Herbalife Inc. and Athenahealth Inc., is obviously Green Lantern.
Top Dog
•Jim Chanos. This short, who rose to fame betting against Enron Corp., named his firm Kynikos Associates LP. Kynikos means "like a dog" in Greek and was used to insult ancient philosophers critical of the rat race for wealth, eventually leading to the English word "cynic." This one's easy too, since there aren't (m)any other superhero dogs besides Sweet Polly Purebred's love interest. So: "When criminals in this world appear and break the laws that they should fear, and frighten all who see or hear, the cry goes out both far and near for... Underdog!"
•Bill Ackman. Here's where the plot thickens, as they say in the comic books. Another Herbalife short, who also got ahead of the bond-insurance collapse with a $1 billion winning bet against MBIA Inc., is best known as the founder of Pershing Square Capital Management LP. But he also started a firm called Gotham Partners LP.
However, Yu has staked a pretty good claim to being Batman, so there's only one way to sort this all out: invite them both to a dark alley and see who looks better in tights.
Before it's here, it's on the Bloomberg Terminal.
LEARN MORE